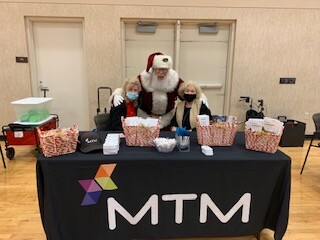 MTM Nevada Team Joins the Winter Wonderland Festival
Nationwide, our local teams are always eager to participate in events in their communities–and the MTM Nevada team is no exception! Teammates from our Las Vegas office recently participated in a local Winter Wonderland Festival, where they spread the word about non-emergency medical transportation (NEMT) services.
The event, hosted by the Las Vegas City Council and Councilwoman Oliva Diaz, was held at the East Las Vegas Community Center. More than 500 attendees were greeted by organizations in their community that provide resources for families in need. COVID-19 vaccinations were also available, as well as a visit from Santa Claus complete with a toy giveaway! The event was a great reminder to the MTM Nevada team of how important NEMT services are to Medicaid members throughout the state, especially around the holidays.