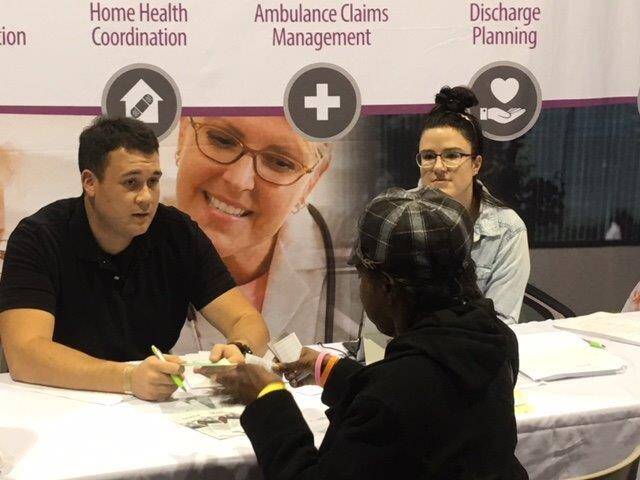 Removing Barriers in Nevada with Project Homeless Connect
On November 14, MTM's Nevada team participated in the annual Project Homeless Connect (PHC) event sponsored by the Nevada Homeless Alliance (NHA). This year's event was held at Cashman Field in Las Vegas.
PHC is a service and resource fair for people experiencing homelessness or who are at-risk. Services provided aim to break down barriers to housing and self-sufficiency, including shelter, health care, legal issues, job readiness, food, and behavioral health. Since its establishment, the NHA has convened community partners in the planning and execution of 25 Project Homeless Connects. In the last five years alone, these events have assisted more than 15,000 homeless clients in accessing resources and services. PHC includes more than 150 service providers and 600 community volunteers who serve more than 3,000 individuals per event.
MTM Nevada Community Outreach Trainer Ken Riddle attended the planning meetings for the event and strategized with Nevada Program Director Sandy Stanko and Customer Care Center Manager Doreen Orlando regarding what value MTM could bring to the event and homeless Medicaid members. MTM determined that we could distribute bus passes to members for covered follow-up appointments scheduled onsite with one or more of the medical providers participating in the event.
There were approximately 5,000 homeless individuals that participated in this year's event, which featured medical, dental, behavioral health, housing and legal assistance, job readiness, veteran's services, haircuts, pet services, vaccinations, and more. Lunch was served to attendees, and there was a free store where individuals could get blankets, clothes, and other items.
On the day of the event, Customer Care Representatives Joshua Moriarity and Jessica Chapman verified members' Medicaid eligibility and completed paper reservation forms. 100 bus passes were provided to members needing follow-up medical appointments.
Jessica commented, "I enjoyed being able to interact and meet with some of our wonderful members in person. Especially the ones that I've spoken to many times over the phone!" Joshua said, "It was a very eye-opening experience for me. I was floored by how grateful our members were for our service. It showed me of how vital and important MTM is to the health and well-being of our members. I would definitely do it again!"
One of MTM's transportation providers, DCMT, also participated and was available in case immediate transportation was needed for members attending the event. Overall, the event was a great success, and was very humbling for MTM reps. The Nevada team looks forward to participating again next year!