Consider a Career at MTM/MTM Transit
From entry level customer service positions to challenging technology and leadership roles, MTM offers a wealth of employment opportunities.
Our corporate culture promotes healthy living, excellent work-life balance, and strategic career advancement opportunities in a rewarding work environment where you will make a positive impact in your community and beyond. In particular, MTM is committed to providing physical activity and wellness opportunities for our employees. We have been recognized as a Gold Level Recipient of the American Heart Association's Fit-Friendly Worksites Recognition program and as one of the St. Louis area's Healthiest Employers by the St. Louis Business Journal, as well as a Best Place to Work by the Business Journal.
We offer employment opportunities that support both our traditional healthcare operations, as well as our transit operations through MTM Transit, formerly known as Ride Right.
The Hiring Process
We know job hunting can be hard. We do our best to make the process easy for you with our simple hiring practice:
Ready to join the MTM team? Submit your application today! We look forward to providing you an opportunity to develop your career as a member of our team. If you can't find what you are looking for, please consider our affiliate Ride Right for more opportunities.
The Right Fit
MTM firmly believes that our talented workforce is the backbone of our operations. Our core values guide our employees in providing the highest quality customer experience possible and helping clients achieve their goals. When filling open positions, we look for hardworking candidates who can contribute to our culture and overall success by embodying our five core values: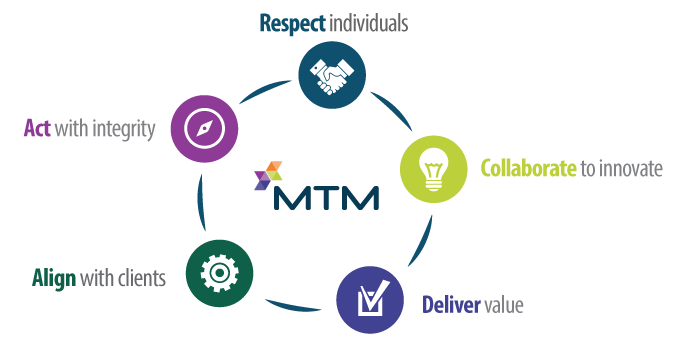 Total Rewards
To show appreciation for our staff's hard work and dedication, MTM offers more than just a paycheck. Our Total Rewards program is all encompassing, offering a wide variety of enticing benefits to ensure our employees and their families are rewarded.
MTM is Proud to be an Equal Opportunity Employer
MTM is an equal opportunity employer who welcomes diversity and values the ways in which we are different. All qualified applicants will receive consideration for employment without regard to race, color, religion, sex, sexual orientation, gender identity, age, national origin, disability, veteran status, familial status, marital status, economic status, political status, or other characteristic protected by applicable law. Click here for more information on Equal Employment Opportunity laws that MTM follows.
Click here to find your next career with MTM!
Diversity & Inclusion Program
We embrace the advantages that come with having a diverse staff; most importantly, our own diversity allows us to have a greater understanding of the populations we serve—populations that come from backgrounds of varying cultures, ethnicities, religions, ages, genders, and abilities. MTM's company-wide Diversity and Inclusion Training Program—created in partnership with disability inclusion expert James Emmett—strives to recruit a diverse, knowledgeable workforce to serve an equally diverse customer base. By ensuring an inclusive employment culture, MTM is able to develop a workforce that is reflective of our customer base while empowering disabled populations in the communities we serve—putting us one step closer to achieving our vision of communities without barriers.