Contact Us
HIPAA Disclosure
Information and personal contact information you enter on this form will be securely transmitted directly to MTM and will be kept confidential to the extent required by HIPAA.
Members' Rights
Members shall have the right to file a grievance about any matter related to their services, without concern of reprisal from MTM, its employees, or providers. All members will be provided written notice of the grievance procedures upon denial of services, member request for appeal or grievance, or at the member's request. Members wishing to file a grievance online may do so using the form above. Members wishing to file a written grievance should mail it to the address shown at right and label it, "Attn. Grievance and Appeals."
Contact Information
Members/Riders
Transportation Information: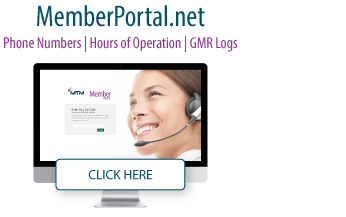 Transportation Providers
If you are currently a transportation provider within our network, please contact your dedicated Vendor Account Manager with questions or comments.
Corporate Headquarters
16 Hawk Ridge Drive
Lake St. Louis, Missouri 63367
Phone: 636-561-5686
Fax: 636-561-2962
Email: marketing@mtm-inc.net
For Media Inquiries please contact Michele Lucas – mlucas@mtm-inc.net
Please visit our locations page for contact information for each of our nationwide locations.
If you, or someone you're helping, has questions about MTM, you have the right to get help and information in your language at no cost. To talk to an interpreter, call 888-561-8747.
Si usted, o alguien a quien usted esté ayudando, tiene preguntas acerca de MTM, tiene derecho a obtener ayuda e información en su idioma sin costo alguno. Para hablar con un intérprete, llame al 888-561-8747.
إذا كان لديك، أو لدى أي شخص تساعده، أي أسئلة عن MTM، فمن حقك أن تحصل على المساعدة والمعلومات بلغتك وبدون أي تكلفة. للتحدث إلى مترجم اتصل بـالرقم 8747-561-888.
如果您或您正在协助的对象对 MTM 有疑问,您有权免费获取以您的母语提供的帮助或信息。若您需要一名口译,请拨打 888-561-8747。
如果您,或是您正在協助的對象,有關於 MTM 方面的問題,您有權利免費以您的母語得到幫助和訊息。洽詢一位翻譯員,請撥電話 888-561-8747。
만약 귀하 또는 귀하가 돕고 있는 어떤 사람이 MTM에 관해서 질문이 있다면, 해당 도움과 정보를 귀하의 언어로 무료 지원을 받을 수 있습니다. 통역사와 얘기하려면 888-561-8747 (으)로 전화하십시오.
Si vous, ou quelqu'un que vous êtes en train d'aider, a des questions à propos de MTM, vous avez le droit d'obtenir de l'aide et l'information dans votre langue à aucun coût. Pour parler à un interprète, appelez le 888-561-8747.
Если у вас или у того, кому вы помогаете, есть вопросы по поводу MTM, у вас есть право получить бесплатно помощь и информацию на вашем языке. Для разговора с переводчиком позвоните по телефону 888-561-8747.
Nếu quý vị, hay người mà quý vị đang giúp đỡ, có câu hỏi về MTM, quý vị sẽ có quyền được giúp và có thêm thông tin bằng ngôn ngữ của mình miễn phí. Để nói chuyện với một thông dịch viên, xin gọi 888-561-8747.
Kung ikaw, o ang iyong tinutulungan, ay may mga tanong tungkol sa MTM, mayroon kang karapatan na humingi ng tulong at impormasyon sa iyong wika nang libre. Upang makipag-usap sa isang tagapagsalin, tumawag sa 888-561-8747.
Falls Sie oder jemand, dem Sie helfen, Fragen zum MTM haben, haben Sie das Recht, kostenlose Hilfe und Informationen in Ihrer Sprache zu erhalten. Um mit einem Dolmetscher zu sprechen, rufen Sie bitte die Nummer 888-561-8747 an.
お客様またはお手伝いしているどなたかが、MTMに関してご質問がある場合、無料でお使いの言語にてヘルプおよび情報を受けることができます。通訳とお話しいただくには、888-561-8747 までお電話ください。
यदि आपके, या आप द्वारा सहायता किए जा रहे किसी व्यक्ति को MTM के बारे में प्रश्न हैं, तो आपके पास अपनी भाषा में मुफ्त में सहायता और सूचना प्राप्त करने का अधिकार है। किसी दुभाषिए से बात करने के लिए, 888-561-8747 पर कॉल करें।
اگر شما، يا کسی کە شما بە او کمک ميکنيد ، سوال در مورد ام تی ام (MTM)، داشتە باشيد حق اين را داريد کە کمک و اطلاعات بە زبان خود را بە طور رايگان دريافت نماييد. برای صحبت کردن با یک مترجم به شماره 8747-561-888 تماس حاصل نماييد.
જો તમે અથવા તમે કોઈને મદદ કરી રહ્યા હો તેવી વ્યક્તિને MTM વિશે પ્રશ્ન હોય તો તમારી પાસે વિના મૂલ્યે તમારી ભાષામાં મદદ અને માહિતી મેળવવાનો અધિકાર છે. દુભાષિયા સાથે વાત કરવા માટે 888-561-8747 પર કૉલ કરો.
Si Lei, o qualcuno che Lei stai aiutando, ha domande su MTM, Lei ha il diritto di ottenere assistenza e informazioni nella Sua lingua gratuitamente. Per parlare con un interprete, chiami il numero 888-561-8747.