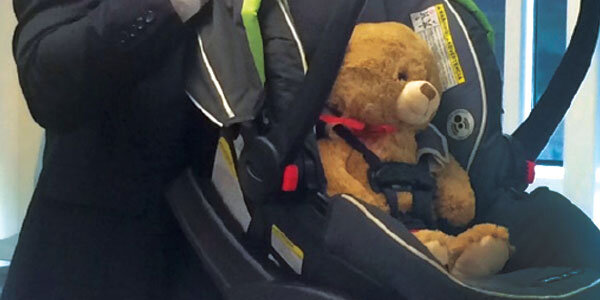 MTM Education, Training, and Outreach Supports UnitedHealthcare Baby Showers
Its baby shower season in Iowa! The month of May has found MTM's Senior ETO Coordinator Kyle Bissell supporting UnitedHealthcare at their baby showers throughout the state. Thus far, UHC has sponsored baby showers for mothers to be in Des Moines and Davenport. The showers are focused on providing expectant mothers with Medicaid information for prenatal care, baby care, and child car seat safety and transportation.
Kyle explained to the groups how to reach MTM for transportation and what to expect from our network of transportation providers. He also informed members of some of the UHC-approved transportation benefits available for mother and baby. He has his presentation of the different modes of transportation available to moms and babies down pat.
The groups so far have had several questions regarding cabs supplying child car safety seats. "MTM cannot require our transportation providers to supply car seats for children," Kyle informed them, a car seat safety technician for over 15 years while working at a fire department. "Over 73 percent of the car seats in cars today are either installed incorrectly or are the inappropriate size for the child. That cab you are asking about may only have one size car seat, and that seat may not fit your child."
Attendees were shown the proper way to size a car seat and then adjust that seat to fit "Boo Bear," who you see in the photo above. Kyle demonstrated how to install the seat and where to install the seat. He suggested local resources with certified installation technicians to assist in the process in the future. Thanks to Kyle and "Boo Bear" for their help assisting expecting and new mothers access important information and resources to keep everyone healthy!