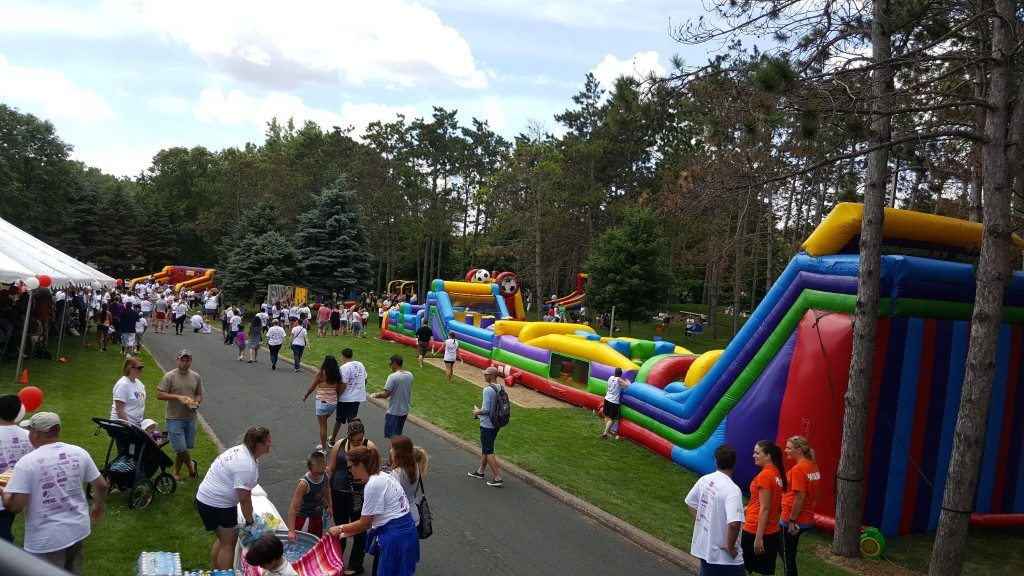 Education, Training, and Outreach Volunteers with the MAC
In July, The Minnesota Autism Center (MAC) held its eleventh annual fundraiser, this year in the form of a "Family Fun Day," inclusive of a silent auction, a picnic, bouncy inflatables, and much more. Families participated in water balloon games, minnow races, and face painting as well. A picnic lunch of hot dogs, chips, watermelon and a variety of cookies was had by all, and families snacked on cotton candy, snow cones, and popcorn.
The Minnesota Autism Center provides therapeutic support for children, adolescents, and families affected by autism spectrum disorders. Funds from their "Family Fun Day" will be used to expand services and increase MAC programs across the State of Minnesota.
Minnesota Education, Training, and Outreach (ETO) Coordinator Melissa Marengo volunteered at the event, working in the Wii room. Attendees could come in and play tennis, baseball, or even bowl. Some came just to get a break from the heat and relax in the giant bean bag chairs. Melissa found working this event completely rewarding, seeing the families having fun together, and in some sense putting aside medical issues for a few hours. She looks forward to volunteering for future events with MAC.
Melissa was actually one of 200 volunteers for the event! 492 items were donated to the silent auction. Items available for bidding on included a variety of gift baskets, gift certificates for gas, restaurants, hotel stays, massages and more. MAC employees could bid on PTO hours, a prime parking spot, and a lunch with their CEO. MAC relies heavily on fundraising that happens at this event to provide support to families. Thankfully, the auction was a huge success! The organization set a fundraising goal of $15,000 but collected $23, 031 by the end of the day. MTM is honored to have contributed to the success of such an outstanding organization thanks to Melissa!