Important Updates
Changes to GMR Claiming on the MTM Link Member Mobile App
When using the MTM Link Member mobile app, members have the option to schedule and claim gas mileage reimbursement (GMR) trips without having to send in paper trip logs. An update made to the app in November 2023 now requires members to select "I'm Leaving" on the app before departing their starting address to begin the trip, and then select "I'm Here" when they arrive at their destination to finish the trip and submit the claim. For more information, including instructions for how to claim GMR trips using the MTM Link Member mobile app, click here to access our user guide.
New Process for Minors Riding Alone 
Beginning September 1, if a child is aged 14 to 17 years old and needs to ride without a parent or guardian present, the parent or guardian must fill out a Parental Consent Form. This form allows MTM to give rides to a child/children without an adult riding along. The child's parent or guardian must fill out, sign, and send MTM the Parental Consent Form before we can set up rides for a child/children to ride alone. To help ensure their safety, children under 14 must ride with a parent, a guardian, or an adult attendant. 
Below are some FAQs regarding this process to help answer any questions you may have about the change.
What do I do if an adult cannot ride with a child under the age of 14?
If the parent or guardian of a child under 14 would like their child to be allowed to ride alone, they can contact MTM and make an exemption request when scheduling the ride. MTM will send the request to the Idaho Department of Health and Welfare for review and consideration. Each request will be reviewed on an individual basis, and not all requests will be granted.
Where do I find a Parental Consent Form for a child aged 14 to 17?
Forms may be found on this web page under the "Forms and Other Documents" heading.
If a child has their license, can they still drive themselves and get reimbursed?
Yes. MTM offers gas mileage reimbursement at $0.30 cents per mile.the 
Forms and Other Documents:
All rides must be for Medicaid-covered services
You can schedule a ride 24 hours a day, seven days a week
You must call at least two business days before your appointment
Have your trip information ready when you call
Be ready at least 15 minutes before your ride is scheduled to arrive
Important Toll-Free Phone Numbers
To schedule a ride, call 1-877-503-1261
If your ride is late, call 1-877-503-1261
To file a complaint, call 1-866-436-0457
To inquire about mileage reimbursement, call 1-877-503-1261
To ask for assistance with the MTM Link app, call the MTM Link Navigator Line at 888-597-1189
For interpretative services, call 888-561-8747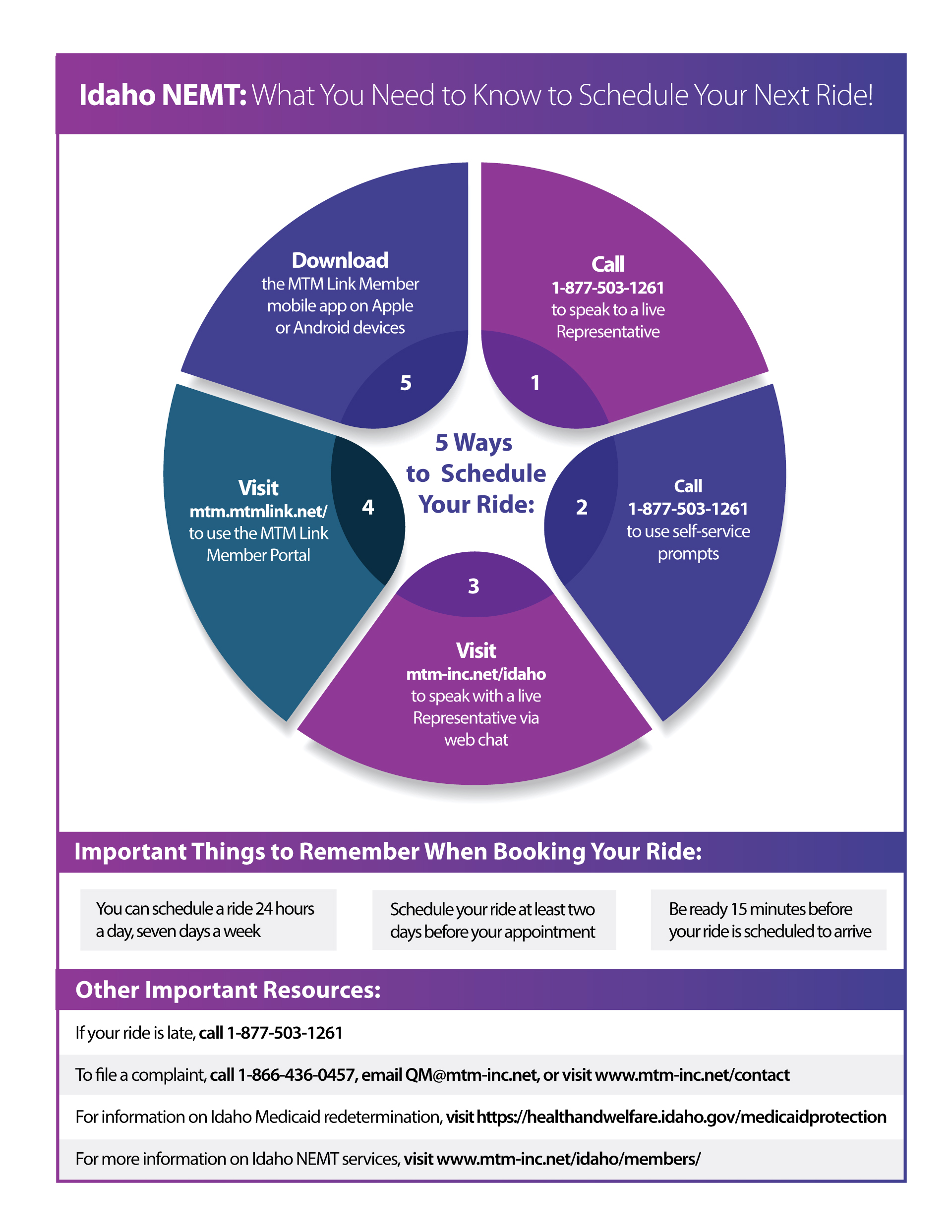 Frequently Asked Questions (FAQs)
Adjust Font Size (small/medium/large)