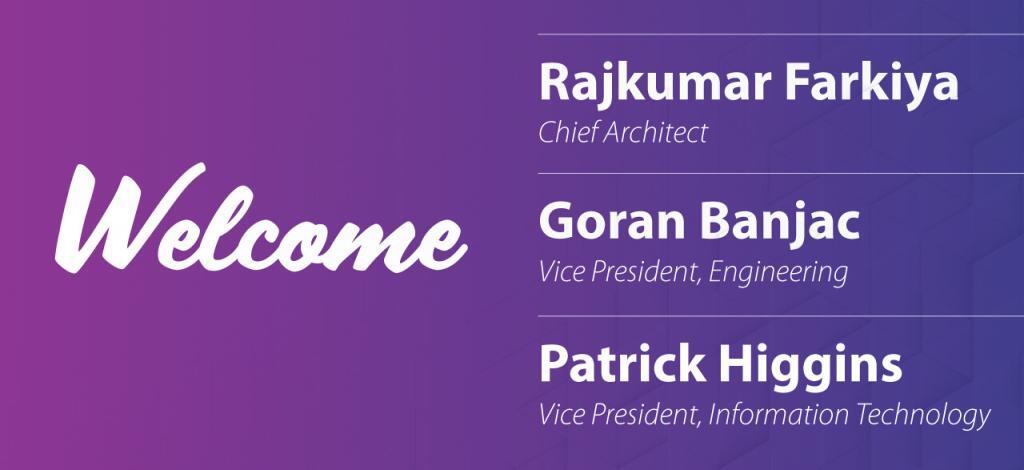 Three New Leaders Join MTM's Information Technology Team
Technology and innovation is continually changing the way MTM operates, and we need leaders who can help successfully execute our vision of technological enhancement. MTM is pleased to announce the hiring of three new leaders over our Information Technology group: Rajkumar Farkiya, Chief Architect; Patrick Higgins, Vice President, Information Technology; and Goran Banjac, Vice President, Engineering. These three individuals were brought to our organization in an effort to drive innovative solutions and deliver key technology initiatives that support MTM's strategic and operational goals.
"Rajkumar, Patrick, and Goran each bring to MTM impressive backgrounds in the IT sector," said Chief Technology Officer Rick Holbrook. "With their diverse capabilities and qualifications, I am confident that each of them will be the leaders our teams need to implement new technology products, maintain a culture of innovation and collaboration, and align our IT strategies with MTM's overarching vision of communities without barriers. Our teammates, clients, and membership alike will each benefit from the innovation they bring to the table, resulting in more streamlined, efficient service for all stakeholders."
Rajkumar Farkiya
Chief Architect
The new position of Chief Architect is responsible for developing MTM's comprehensive application architecture and planning strategic new technologies and services. With an impressive background spanning more than 20 years, Rajkumar Farkiya is a seasoned technology executive with experience leading engineering and development teams in the healthcare industry. His two-decade career includes leadership positions with Motorola, GetWellNetwork/Skylight Healthcare Systems, and most recently, ViiMed. As ViiMed's Chief Technology Officer, Rajkumar brought technical expertise and innovation to the digital health platform, and led efforts to build a FedRAMP-compliant platform for largescale customers providing virtual healthcare services. Rajkumar earned his Masters Degree in Computer Science from CV Raman University. He is an AWS Certified Solutions Architect, and is a PMI Agile Certified Practitioner.
Patrick Higgins
Vice President, Information Technology
As our new Vice President, Information Technology, Patrick Higgins is responsible for the overall design, development, and implementation of our IT systems, applications, and infrastructure. Patrick is a trusted technology leader with more than 25 years of experience in IT leadership positions, managing technology in a complex and ever changing world. His experience in Vice President and Director-level roles at organizations like Claritas, Inc., GetWellNetwork/Skylight Healthcare Systems, and Accumen, Inc. has made him a trusted technology leader, with an emphasis on maintaining HITRUST certification—an extremely important component of MTM's IT operations. Most recently, he spent four years as Director, Information Technology/Information Security Officer at the San Diego-based Accumen, Inc., where he oversaw an exclusively cloud-based enterprise. His leadership and guidance allowed the organization to achieve HITRUST certification. Patrick earned his Bachelor of Science degree in Electronic Engineering Technology from Western Kentucky University.
Goran Banjac
Vice President, Engineering
A strategic role that requires strong partnership across all MTM functions, the Vice President, Engineering ensures our Engineering team delivers meaningful features, applications, and technology solutions that guarantee all business operations run smoothly. With more than 20 years of experience in development roles—10 of which have been spent in technical management positions—Goran Banjac is a top tier software development executive. In past roles with companies like Alltel, GetWellNetwork/Skylight Healthcare Systems, and ViiMed, Goran has led large engineering teams and helped establish a technology vision that supports the needs of internal and external customers. Most recently as the Chief Development Officer with ViiMed, he optimized the organization's technology capabilities to deliver virtual healthcare solutions worldwide. Goran is a graduate of the University of Sarajevo, and has continued his education in business intelligence and technology at the University of California—San Diego.
Welcome to the MTM team!