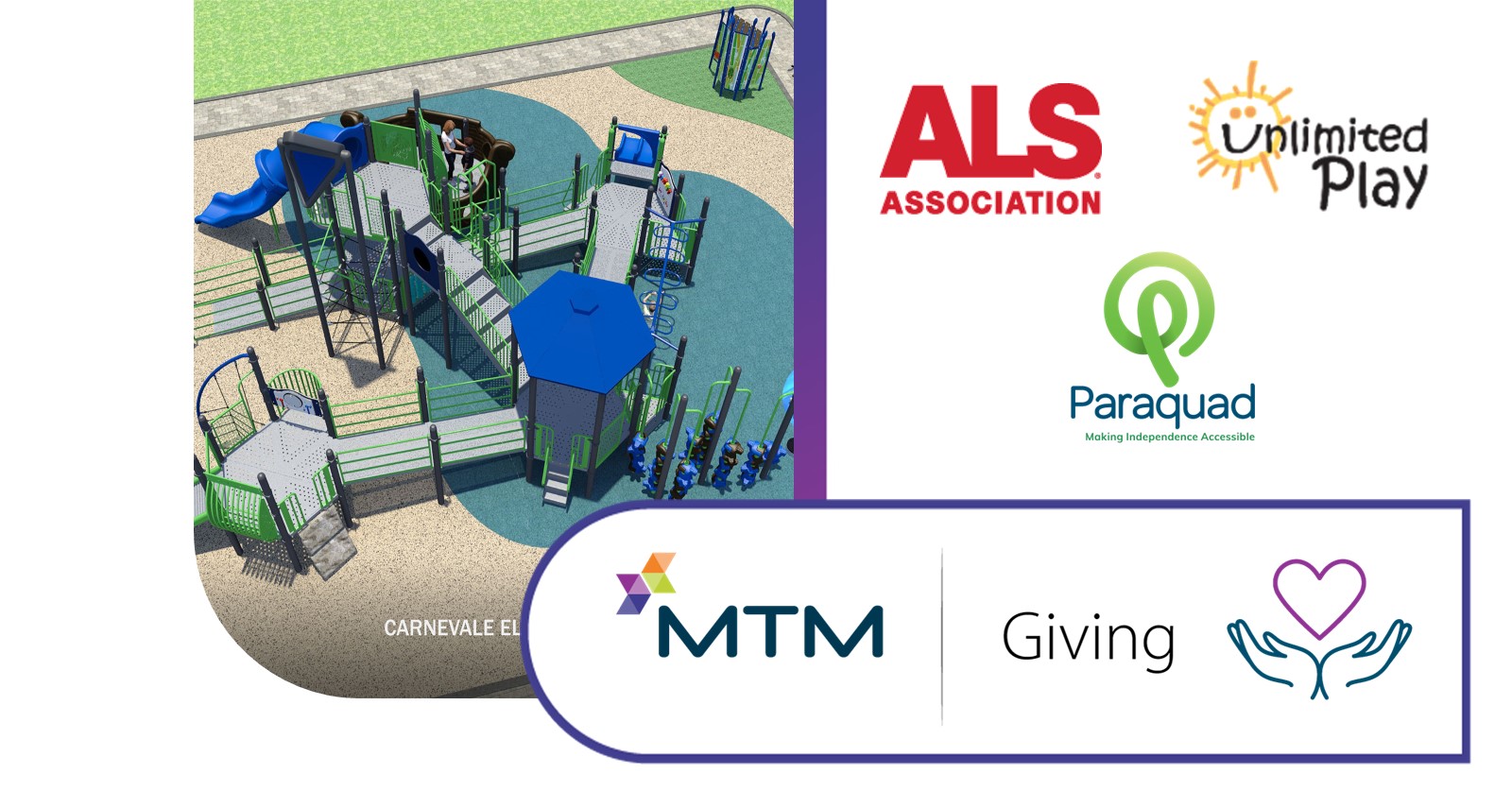 MTM Giving Supports Unlimited Play, Paraquad, and the ALS Association
Through our award-winning MTM Giving program, MTM is proud to support organizations that serve the communities our teams work and live in. With a focus on organizations that are committed to diversity, wellness, and our youth, our philanthropic efforts strive to make a positive impact on societal issues that are important to our teammates. In fact, each organization we give to is nominated by an MTM employee who is inspired by the group's mission and efforts.
Meet some of the incredible organizations that we recently supported!
Unlimited Play
Providence, Rhode Island
Unlimited Play is a 501(c)3 non-profit organization that helps plan, design, and build fully accessible playgrounds that allow all children—regardless of their abilities—to play together. At Anthony Carnevale Elementary School in Providence, approximately 40% of students receive special education services. The school playground could not be enjoyed by many of these students, and two staff members identified an opportunity to make a difference. The school's physical therapist and occupational therapist teamed up to form a committee to help create a fully inclusive playground. MTM's $2,500 contribution will help the Carnevale Elementary School Playground be a place where children of all abilities can play together safely, build friendships, and promote diversity and acceptance. Find out more about this inspiring new park!
Paraquad
St. Louis, Missouri
Paraquad champions equity and independence for people with disabilities through services, partnerships, education, and advocacy. The organization, based in St. Louis, offers programs and services that provide hands-on, practical assistance for people with disabilities, all geared toward the goal of independent living. MTM's $5,000 donation will help Paraquad provide its services to people with disabilities at low or no cost, including making home modifications, helping individuals find employment and on-the-job support, allowing them to access fitness and exercise programs, and more. Read more about Paraquad's mission and vision!
The ALS Association
St. Louis, Missouri
The ALS Association is the only national not-for-profit organization completely dedicated to fighting Amyotrophic Lateral Sclerosis (ALS). The organization's St. Louis chapter operates under the mission to improve the lives of people living with ALS and to leave no stone unturned in search of treatments and a cure. MTM's $5,000 donation to the St. Louis chapter of the ALS Association will help support local care services for ALS-related expenses. Learn more about the ALS Association and its mission.