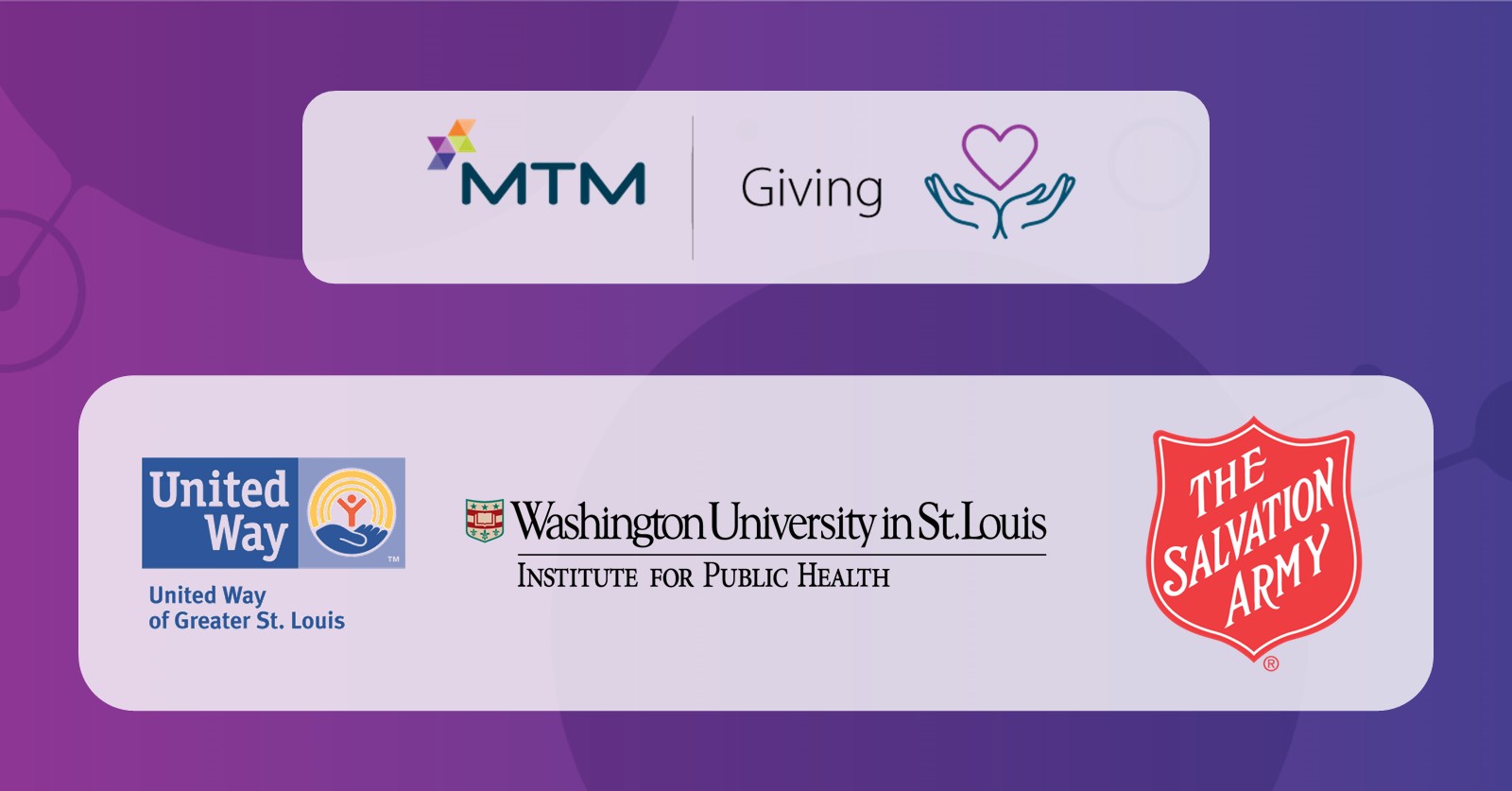 MTM Gives Back to the St. Louis Community
Our MTM Giving program has been a huge success in 2022, contributing more than $200,000 in charitable giving to organizations nationwide. To close out this year's MTM Giving activities, MTM was honored to give back to organizations in our hometown of St. Louis, including the United Way, Washington University, and the Salvation Army.
The United Way of Greater St. Louis
The United Way of Greater St. Louis is a long-time recipient of support from MTM Giving. The organization mobilizes the local community by helping people live their best possible lives while transforming the St. Louis area into a stronger, healthier, and more equitable region. Our $30,000 donation to the United Way will support services and programs that assist people facing poverty, hardship, and adversity, including those programs that fall into the organization's five impact areas:
Fostering Learning
Improving Health
Strengthening Communities
Providing Food and Shelter
Establishing Financial Stability
The United Way will utilize our donation to support tasks such as providing nutritious meals for seniors, purchasing winter hats for the homeless and shoes/clothing for children in need, giving flu shots to at-risk infants and inhalers to children, paying for shelter for homeless people and runaway youths, providing training for unemployed job seekers, and much more.
Washington University Institute for Public Health
Over the course of more than 150 years, Washington University in St. Louis has grown from a college educating local men and women to an internationally known research university with students and faculty from approximately 90 countries. MTM's $50,500 donation to the Washington University Institute for Public Health will support several of the institution's initiatives, including:
The MTM, Inc. Community Health Access Fund, a fund established to support work aimed at increasing access to community services and eliminating health disparities in the St. Louis community
The Lynn and Peg Griswold-MTM Scholarship, a scholarship fund established in honor of MTM's founders
The Annual Fund, which supports student scholarships, innovative programs, and faculty research
The Hillman Hall Social Work Building, an on-campus building dedicated to empowering learning, research, and collaboration that cultivates a community of health and wellness
The Salvation Army Greater St. Louis Metro Area
At MTM, giving back isn't just about donating funds. In honor of the holiday season, dozens of our St. Louis-based teammates answered our call to action to participate in the Salvation Army Angel Tree program. This program helps provide Christmas gifts to hundreds of thousands of children around the country each year. MTM teammates adopted 50 children from the St. Louis region, purchasing gifts off of their wishlists to ensure their Christmas dreams came true. Thank you to all of our teammates who took the time to put smiles on children's faces this holiday season!