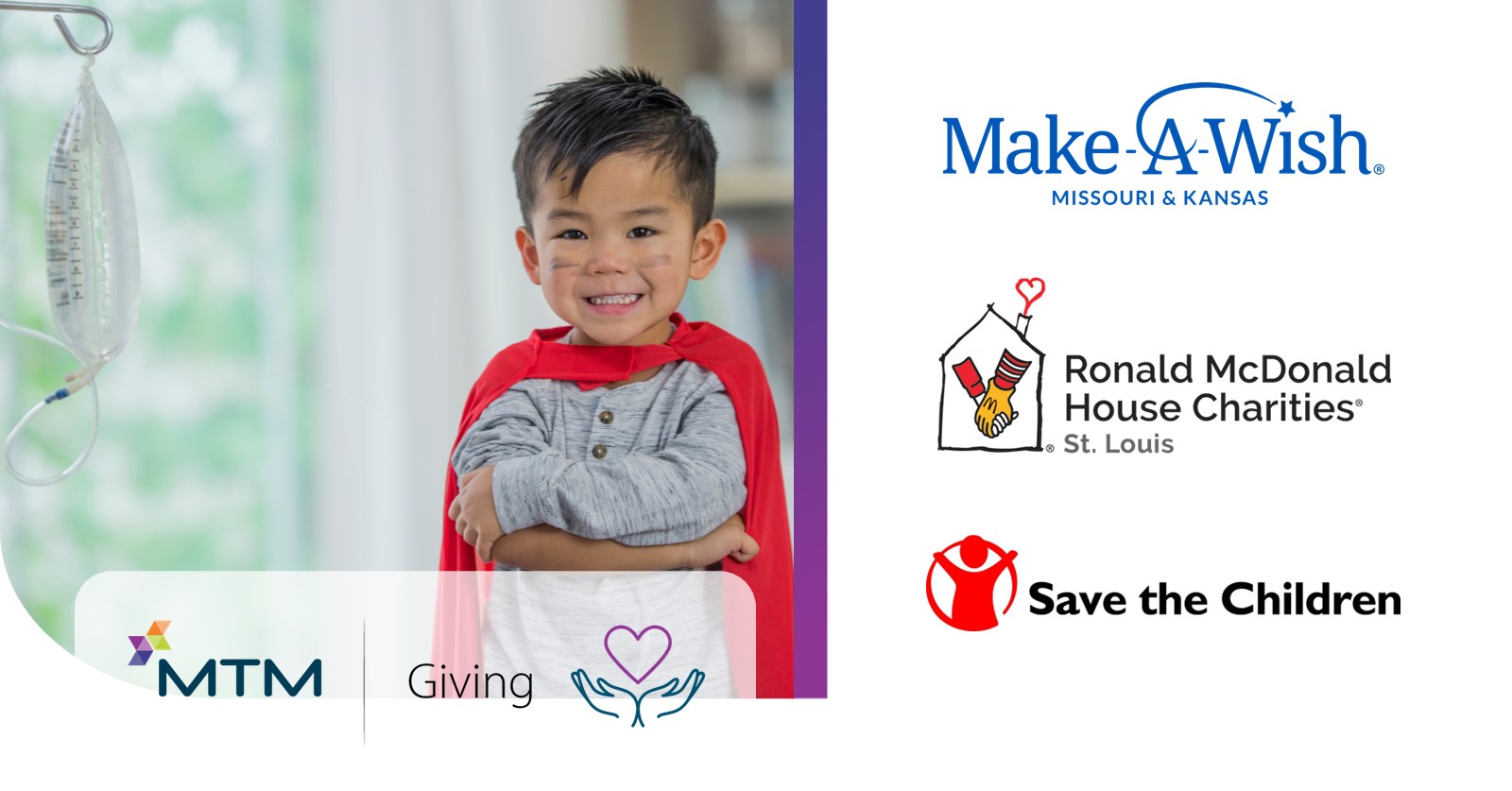 Meet Our Latest MTM Giving Partners: Ronald McDonald House, Make-A-Wish, and Save the Children
Every quarter, MTM is proud to give to organizations in our communities through our MTM Giving program, which supports non-profits like the Ronald McDonald House, Make-A-Wish, Save the Children, and the Girl Scouts of Eastern Missouri. Through this program, we give back to the communities we serve nationwide, specifically organizations that focus on efforts related to diversity, wellness, and our youth. Nominated by our own staff members, we select organizations that matter the most to our teammates and make a true impact within our communities.
Meet a few of our MTM Giving partners for the first quarter of 2023!
The Make-A-Wish Foundation
In late 2020, MTM partnered with the Make-A-Wish Foundation of Missouri and Kansas to grant a wish for an 11-year-old named Zach. Zach had a unique wish that took longer than normal to fulfill—but we are excited to announce that his wish has officially been granted! Zach wished for an arcade room in his home, complete with his favorite game: a claw machine. Zach suffers from a degenerative condition called Familial Dysautonomia, which affects his sensory and autonomic nervous systems, leaving his body uncoordinated and making it difficult for him to participate in daily activities and special events. Having his own arcade gives him a fun gathering space to enjoy with his friends and family in the safety of his own home.
Check out the video below from the Make-A-Wish Foundation of Missouri and Kansas to learn more about our contribution.
The Ronald McDonald House Charities of St. Louis
For families that need healthcare hundreds of miles from home, the Ronald McDonald House Charities of St. Louis provides lodging for those traveling to the St. Louis area for treatment of their seriously ill children. Currently, the organization offers capacity for 59 families within four facilities in the St. Louis region. Now, they are building a brand-new facility downtown that will increase their capacity to 92 families per night, while consolidating into two state-of-the-art buildings. The organization's building in West County will remain, and a new facility in St. Louis City at the corner of Choteau and Tower Grove Avenues will offer convenient access to St. Louis Children's Hospital, Shriner's Hospital, and SSM Health Cardinal Glennon Hospital. MTM has committed $50,000 over the next five years to help the organization make room for more families in need.
Save the Children
After two deadly earthquakes in Turkey in early February, thousands of families have been left without shelter in extremely cold temperatures and without access to food and warm clothing. Save the Children is on a mission to raise $100 million to provide life-saving emergency assistance and shelter to children and families affected by the disaster in the war-torn region. MTM has donated $5,000 to the efforts, which will support child-focused psychosocial support and life-saving assistance.
The Girl Scouts of Eastern Missouri
For the second year, MTM was also a proud sponsor of the Girl Scouts of Eastern Missouri's Dessert First event. This unique event challenges prominent St. Louis chefs to flex their baking skills and deliver one-of-a-kind Girl Scout Cookie-inspired creations. MTM was a Bronze Sponsor for the 12th annual event, and enjoyed an evening celebrating the Girl Scout's mission to build girls of courage, confidence, and character, who make the world a better place. Our Chief Operating Office Dawn Kotva, the organization's Second Vice Chair of the Board of the Directors, also spoke at the event.