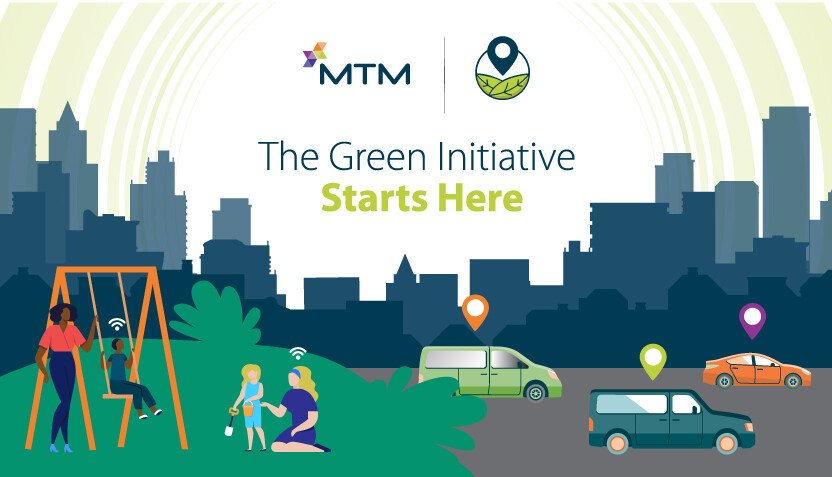 A Message from Our CEO: MTM's Commitment to the Environment and Sustainability
Climate change, our environment, and sustainability efforts are growing topics of concern for many concerned Americans and businesses. At MTM, we are taking our own steps to reduce our carbon footprint and make a positive impact on our industry. Learn more about our commitment to pushing our industry to evolve in this message from our President and CEO Alaina Macia.
"Every year, MTM arranges more than 20 million trips for our members and passengers. While those trips may not be provided directly by us, we are directly affecting the global environment. Now more than ever—with climate change an ever growing concern in our society—sustainability needs to become an integral part of our vision and values.
I am personally passionate about combatting climate change, and firmly believe that a company's commitment to sustainability is an effort that starts from the top down. I'm proud to lead that charge not just here at MTM, but also by pushing our industry to change.
What is MTM doing to reduce our carbon footprint?
Leading by example. We don't just want to initiate change internally; we want to encourage all transit-related businesses to be more mindful and aware of their impact on the environment. Through our legislative contacts, we'll be advocating for stricter regulations around vehicle emissions and fuel efficiency, similar to regulations instituted in California.
Striving toward more fuel efficient fleets. Transportation emissions are the single biggest impact MTM makes on the environment. Our goal is to lobby for legislation and regulations that require all NEMT brokers to incorporate a certain percentage of alternative fuel vehicles into their fleets. To do this, we'll be incentivizing our providers to upgrade their vehicles to fuel efficient models, and also working with organizations like the Medical Transportation Access Coalition (MTAC) to initiate change nation- and industry-wide.
Exploring alternative power resources. We're currently in the middle of renovating our operational headquarters in Lake St. Louis, and are researching solar panels to power a portion of the building's needs. Going forward, we'll look to do the same at each of our nationwide offices where we control the power source.
Stepping up recycling efforts. All of our offices feature single stream recycling bins, with educational pieces posted about what can and can't be recycled to better inform employees of the impact they can make.
Eliminating single use plastics. We're no longer purchasing single use plastic items. Plastic water bottles are being replaced with reusable glass versions, and plastic serving ware like plates and utensils are being traded out for biodegradable options.
Buying from likeminded vendors. Our Procurement team is focusing on finding vendors who share our values, and requiring vendors to have a climate impact statement that reflects our own.
Building off of these initiatives, I'm excited to unveil MTM's climate impact statement, which shows our clients, members, and the industry what we're doing to make a difference:
MTM supports national and global efforts to mitigate the impact of climate change, and is committed to lobbying for regulation that supports sustainability and positive impact. Working in tandem with our industry partners and peers, we're advocating for requirements around the use of fuel efficient vehicles in the NEMT and public transit industries in our efforts to reduce vehicle emissions and promote more environmentally friendly means of transportation for our clients and passengers.
Every little bit helps—even if it's as simple as throwing that water bottle or soda can in the recycle bin instead of the trash or turning off the lights behind you, I hope MTM's commitment to making positive change in our industry encourages you to make positive changes in your own daily life. Remember, no effort is too small!"
Alaina Macia
President and CEO, MTM