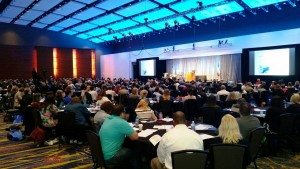 MTM at the Iowa Governor's Conference on Substance Abuse
The Governor's Conference on Substance Abuse was held in Des Moines on April 19th and 20th. Nearly four hundred mental healthcare professionals were in attendance over the two days, including MTM staff members with our Iowa operations!  Ramon Rodriquez, Operations Manager, Kyle Bissell, ETO, and Steve Smith, Network Liaison, attended the two-day, statewide conference focusing on substance abuse prevention, treatment and recovery, while offering recommendations for best practices. The goal of this conference was to establish a meaningful dialogue among substance abuse prevention, treatment, research, recovery and policy-making communities, by identifying strategies and tools that can facilitate the development of a strategic response to the various challenges in the field. This event was a collaborative effort between the Iowa Department of Public Health, contracted agencies, and other service providers and stakeholders who are committed to the educational advancement of professionals working in the addictions field.
MTM participated in the event as a supporter. Ramon, Kyle, and Steve were on hand to answer questions from mental health facilities in an effort to continue to remove transportation barriers for these organizations and their patients.  Many of the conference attendees that stopped by the MTM table were excited about what MTM could offer to facilitate the transportation of their patients to their non-emergency medical appointments.  The contacts made over the two days will afford MTM the opportunity to educate, train, and provide outreach to a segment of our Iowa population that is need of transportation.