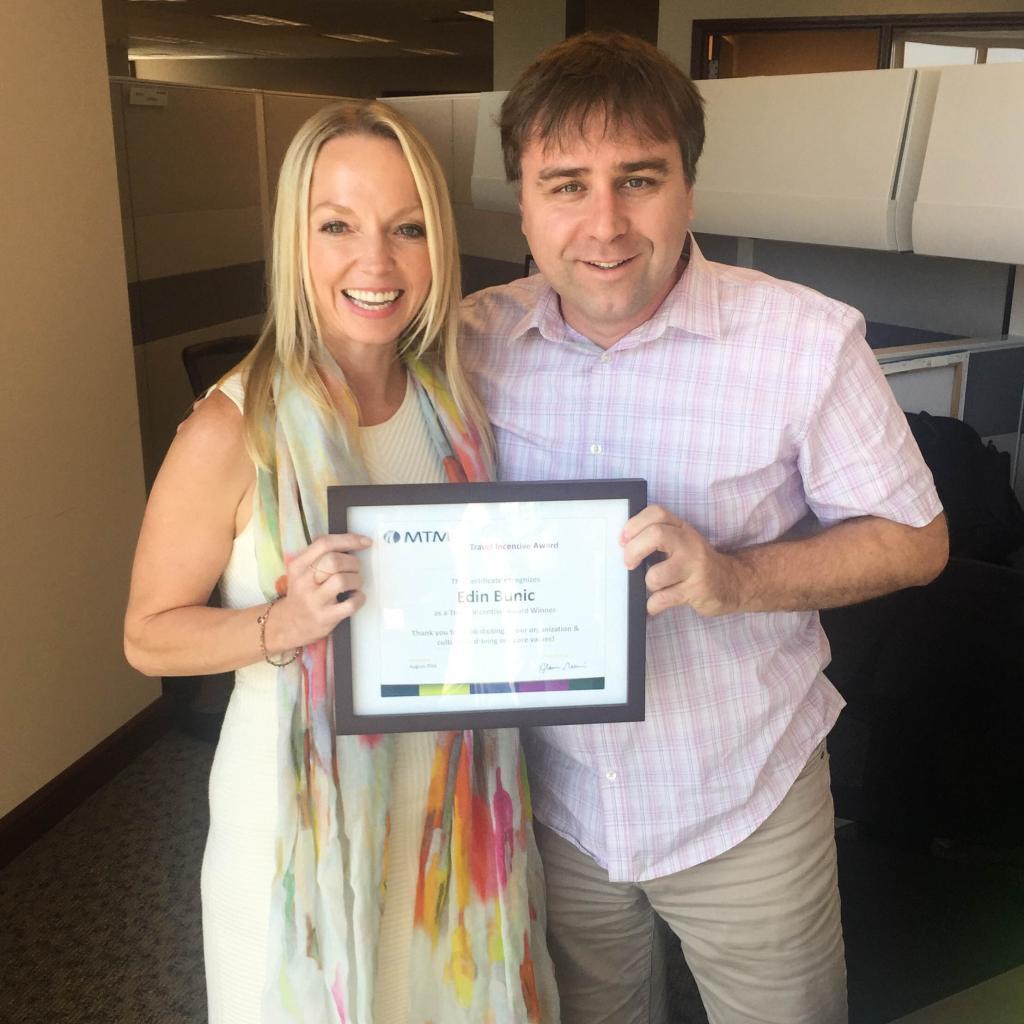 3 Employees Receive Travel Incentive Award
Three outstanding employees were surprised with MTM's prestigious Individual Travel Award by our CEO and President, Alaina Macia yesterday! The Individual Travel Incentive Award includes transportation for two, hotel accommodations for four days and three nights, two activities per person, meal expenses, and onsite dedicated local support. Congratulations to Edin Bunic, Pricing Analytics Manager, John Catalano, Manager in Employee Growth and Engagement, and Nathan Graeff, Travel Training Project Manager, this quarter's deserving winners:
Edin's efficiency and detail orientation, along with his ability to remain humble and keep a high level of integrity, have allowed him to be recognized for this award. Edin has a great understanding of MTM's operations and the financial impacts of each contract we support.  His dedication and willingness to help MTM grow professionally and profitably does not go unnoticed. He is always willing to help with any analysis, and is always looking out for the best interests of the company.
John was awarded this honor because of his constant efforts to go above and beyond his normal job functions. From supporting MTM's Employee Relations Specialists, to being an essential player in all our new contract implementation efforts, he is always willing to step up and help others. He is proactive in gathering staffing needs and managing interviews. John is a great representation of driving MTM's core values on a daily basis.  He is always engaged and willing to step in and help out others in the best interest of the organization.
Nathan was chosen for this award because of his exceptional efforts with the Regional Transportation Authority (RTA) travel training contract, his dedication to his work, and his vision of long-term integrity for the travel training program. He has put together a fantastic team of five travel trainers that are all working hard, and already volunteering in the community and attending social events together in order to build team cohesion.
All three employees are more than deserving based on their ability to maintain our core values on a continuous basis. CEO Alaina was so excited to present them with this award and travel opportunity! We're proud to be able to recognize hard work with rewarding experiences.