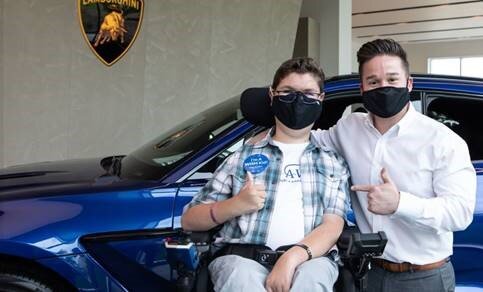 MTM Supports Make-A-Wish Benefits to Help Grant Austyn's Power Wheelchair Wish
Recently, MTM was proud to sponsor two Make-A-Wish events: the 2021 Golf Classic and the Whiskey, Wine & Wishes dinner. MTM teammates attended both events, with funds from the events helping to grant wishes to Make-A-Wish children and their families.
Thanks to this year's events, Make-A-Wish was able to grant a special wish for a Springfield, Missouri teen named Austyn. Just days after the Golf Classic, the organization made Austyn's wish for a new power wheelchair come true. Austyn was diagnosed with a nervous system disorder that left him unable to walk at just 18 months old. He says his new custom power wheelchair will help him see eye-to-eye with friends, family, and other people he interacts with–instead of them having to look down at him when they speak.
MTM is proud to support Make-A-Wish through our MTM Giving foundation, as we help to bring hope, strength, and joy to people like Austyn!