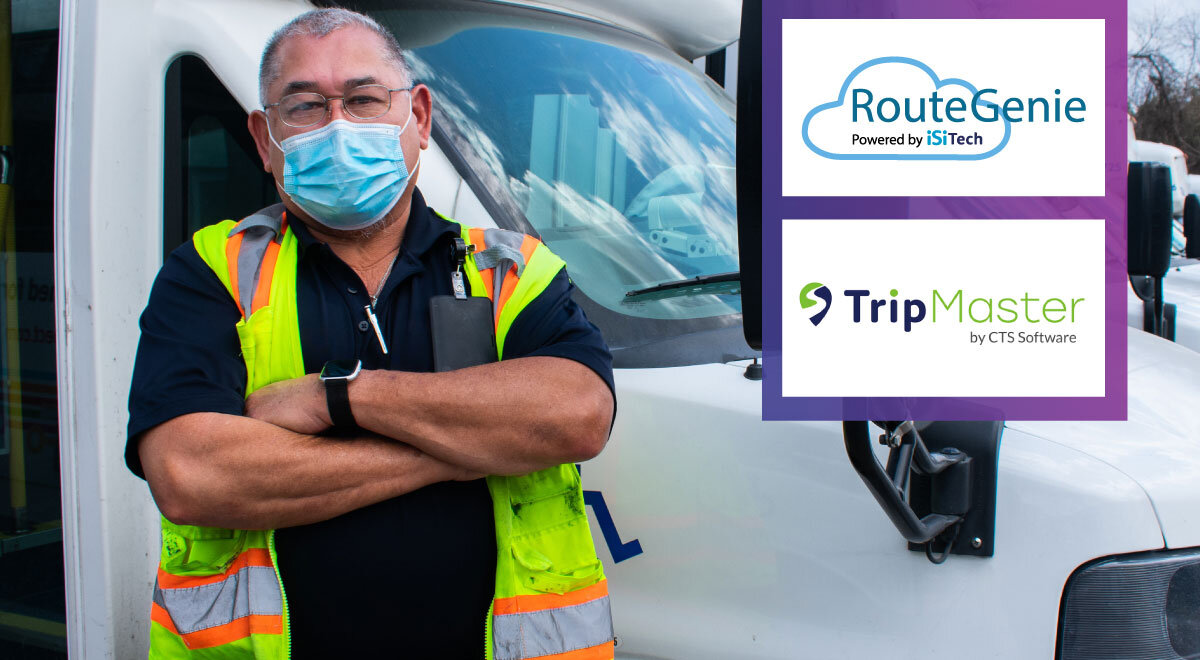 MTM Expands MTM Link Integrations to Include Two New Preferred RSD Partners
With the national roll-out of our proprietary MTM Link platform completed, MTM is excited to announce that we have added integrations with two new preferred routing, scheduling, and dispatching (RSD) partners. TripMaster and RouteGenie have officially completed the API integration, joining RoutingBox. The integration, achieved through a next generation API-based approach, allows MTM's transportation provider partners who currently utilize RoutingBox, TripMaster, and RouteGenie to take advantage of the benefits of the MTM Link platform, while continuing to use their existing third-party RSD solution.
When leveraging integrations like these, transportation providers can use their existing RSD platform to seamlessly exchange real-time data with the MTM Link scheduling and dispatching platform. For example, the RSD platforms are able to:
Exchange trip assignment, modification, and cancellation data to MTM in real-time
Transmit real-time GPS updates to MTM as trips are being performed by transportation providers
Send trip performance data like en route, pick-up, drop-off, and estimated time of arrival notifications to MTM as the events occur
Using these metrics, MTM and our clients receive up-to-the-minute visibility into transportation provider performance, giving us the ability to provide members with real-time trip status and vehicle tracking. Additionally, transportation providers are more efficient and can claim their trips faster by automatically transferring claims data to MTM upon trip completion. Eventually, MTM intends to offer API integration with even more comparable RSD software solutions used throughout our nationwide network of transportation providers.
"Integrations with RSD partners make it extremely convenient and easy for our transportation providers to take advantage of the benefits of the MTM Link platform without moving to a new RSD solution," said MTM President and CEO Alaina Maciá. "Our goal is to always be flexible and support our providers' system of choice. With our list of preferred RSD solutions continuing to grow thanks to the dedication of partners like TripMaster, RouteGenie, and RoutingBox, we have the ability to push and pull data—including live GPS tracking—between MTM Link and the software our providers already use. This is incredibly important, as it allows providers to maintain uniformity across their operations while allowing us to bring GPS compliance and network visibility to our clients and members nationwide."
"We're very excited to work with MTM to create a seamless experience for our NEMT providers who also partner with MTM across the country," added Jonathan Anthon, RouteGenie's Chief Revenue Officer. "The MTM Link platform allows us to create the most intuitive and easy-to-use process available on the market when it comes to interacting with a national NEMT broker."
About MTM Link
MTM Link is MTM's proprietary RSD platform built specifically for the NEMT industry. The platform can be used on any type of tablet or smartphone, meaning transportation providers aren't required to purchase a new system to use the platform. Transportation providers within MTM's network who use the platform have the option to utilize the MTM Link Provider Portal and Mobile App to accept trips, claim trips, and document real-time pick-up, drop-off, and arrival time stamps and GPS data. MTM Link also offers portals and mobile apps for members and medical facilities, allowing rides to be scheduled, cancelled, and confirmed using self-serve technology.
About MTM
MTM is the nation's most trusted and qualified partner for healthcare, transportation, and logistics solutions. Since 1995, MTM has managed NEMT for state and county governments, managed care organizations, health systems, and other programs involving transportation for the disabled, underserved, and elderly. Leveraging technology to streamline processes and improve the user experience for all stakeholders, MTM's wide spectrum of services help clients improve health outcomes, promote independence, reduce costs, and increase satisfaction. In 2009, MTM's leadership established MTM Transit, an affiliate that provides direct paratransit and fixed route transit services. Every year, MTM and MTM Transit collectively remove community barriers for twelve million people by providing more than 20 million trips in 32 states and the District of Columbia. MTM and MTM Transit are privately held, woman-owned business enterprises.
About RouteGenie
RouteGenie is a leading software solution made by NEMT providers for NEMT providers. Created and supported by a team of experienced NEMT and technology professionals, RouteGenie offers a modern, feature rich solution to help NEMT providers maximize their resources, streamline their operations, and provide top quality service to their passengers so they can focus on scaling and growing their business. RouteGenie is currently utilized by over 250 fleets operating in 37 different states across the US and internationally.
About TripMaster by CTS Software
Begun as CTS Management Company, Inc. in 1982, CTS managed various transportation properties in the southeastern United States. Eventually, CTS leadership recognized that the real deficit was a strong software set to manage an ever-growing profession, and began producing transportation management software in 1986. A few years later, CTS Software incorporated solely to provide dynamic, user-friendly software created in the real transit world. TripMaster by CTS Software provides efficient, cost-effective NEMT, demand response, and paratransit software for public and private transit agencies.