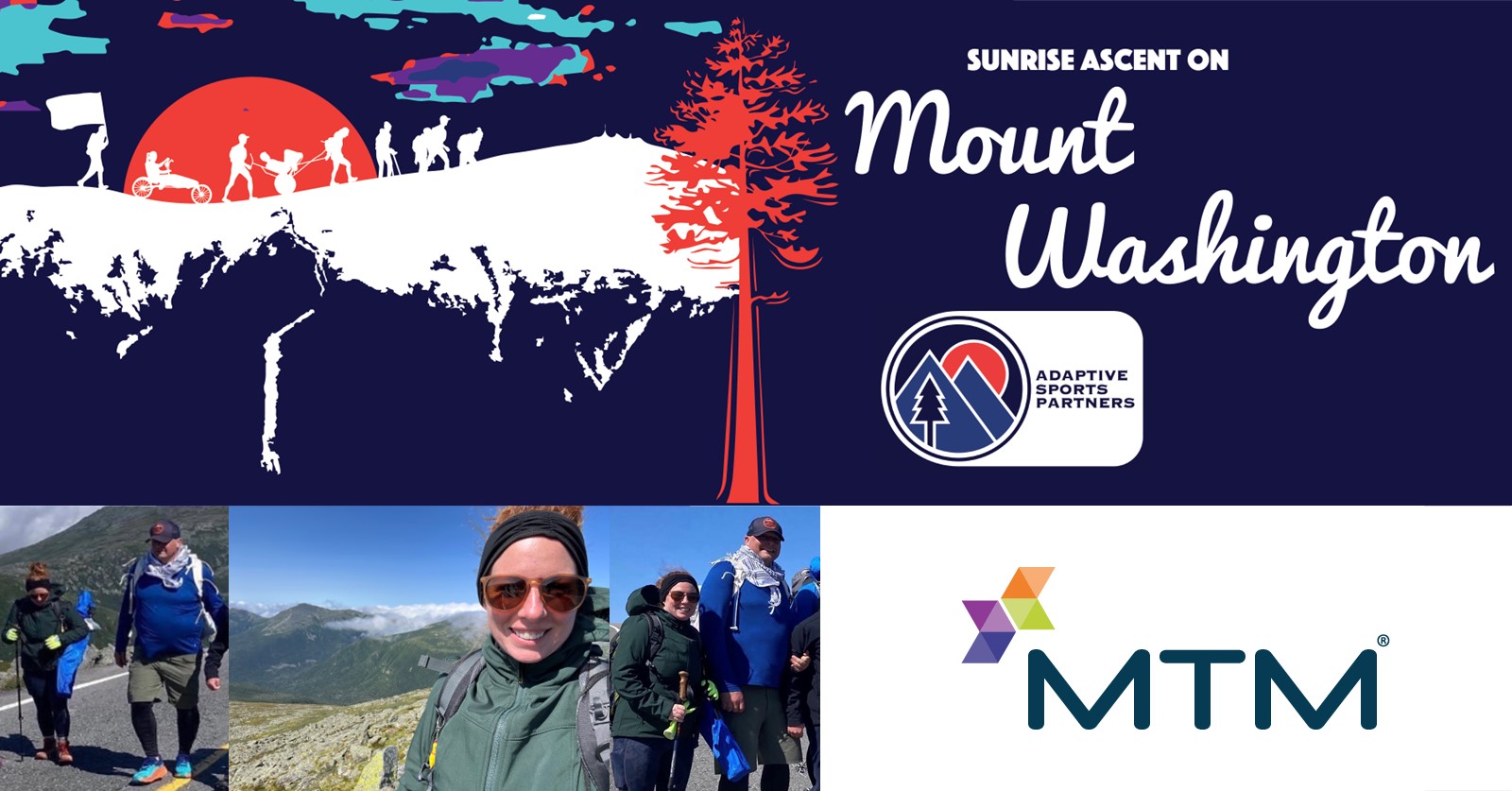 MTM Employees Support the ASPNC Sunrise Ascent of Mount Washington
In July, a determined group of athletes set out to conquer the iconic Mount Washington in New Hampshire. The annual Sunrise Ascent, hosted by the Adaptive Sports Partners of the North County (ASPNC), unites athletes with disabilities, their crew members, and roadrunners in a quest for achievement and inspiration. This year, two MTM teammates were honored to participate in the event: Director, Member Quality Katie Callahan and Account Executive Aaron Bailes. Katie and Aaron served as crew members for the team "In Memory of Tom Norcott," also known as Team Taylor.
The Sunrise Ascent features a 7.6 mile climb along the Mount Washington Auto Road to reach the 6,288 foot summit. Each team consists of an athlete and a dedicated crew whose role is to support the athlete. This includes carrying equipment, providing stability, assisting with mobility aids, offering food and water, and, perhaps most importantly, providing unwavering moral support.
In total, more than 158 crew members rallied around 12 athletes, forming a network of encouragement and determination. And after the triumphant summit ascents, 37 roadrunners joined the mission to safely transport the athletes and their crews back down to the base area.
Team Taylor—including MTM's own Katie and Aaron—supported athlete Taylor Baird. Katie in particular is no stranger to the Sunrise Ascent; this is the second year she has joined Taylor in his ascent. Last year marked a significant milestone for Taylor, as he achieved his first unassisted ascent, conquering the climb without the aid of mobility devices or a chair. This year, he did it again, with only his hiking poles and crew members for support.
The funds raised during the Sunrise Ascent support the organization's year-round activities, ensuring that athletes with disabilities continue to have opportunities to engage in sports and outdoor adventures. In 2023, the event raised more than $60,000.
"I am so proud to be able to support this organization, and look forward to doing so again in 2024," Katie said. "The ascent is a great reminder that when we come together with a common purpose, there's no summit too high to reach."