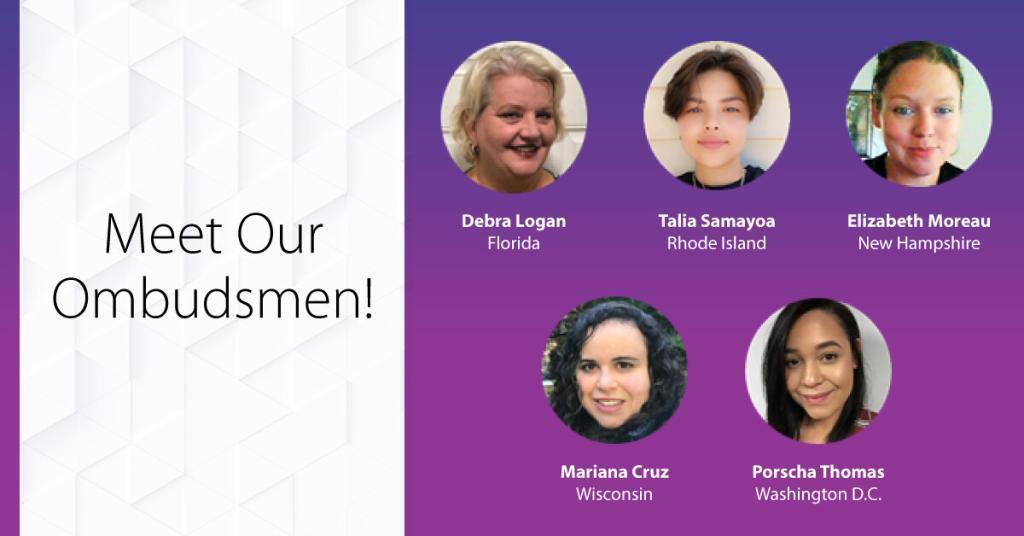 At MTM, we're dedicated to ensuring the best non-emergency medical transportation (NEMT) experience possible for our members, and oftentimes, that means we need a dedicated resource to help them understand their transportation benefit. That's where our team of Ombudsmen come in! Our Ombudsmen have a deep understanding of our clients' NEMT programs and nuances, which allows us to assist members with questions they have about NEMT services, and help members quickly resolve any concerns they may have. This can include providing support throughout the complaint process, documenting and reviewing service details, and hosting group learning sessions and Member Committees. By having an Ombudsman dedicated to a particular NEMT operation, our ultimate goal is to provide an unbiased advocate for our members to voice concerns to and learn from.
Interested in learning more about our Ombudsmen? Meet three of them in this interview below–Debra Logan, Florida Ombudsman; Talia Samayoa, Rhode Island Ombudsman; and Elizabeth Moreau, New Hampshire Ombudsman–and hear what they have to say about their roles at MTM!
What drives or inspires you?
Elizabeth: I have always strived to provide excellent support and services to those in need. This is what initially drew me to MTM. In past and current experiences I have served veterans, immigrants, and just about everyone in between. At MTM, I am able to assist those with financial and physical/mental barriers to have access to needed medical treatment.
Debra: I have been a volunteer advocate for at-risk elders, homeless veterans, Korean and Vietnam vets, and the "No One Dies Alone" program. At MTM, I am able to go a step above in many situations, which may seem like a simple gesture, however it demonstrates the 'heart' of MTM.
Talia: I have a passion for helping those in my community and have always longed for a position to help me fulfill this purpose. I am inspired to show compassion and understand the impact I can have by providing the support members need. I also have a team that supports me at all times. MTM's Community Outreach team is full of amazing people who all share the same motive: connecting with the community and providing support where it is needed.
What makes your role as Ombudsman important to MTM and the communities we serve?
Elizabeth: Being able to be the "boots on ground" is a crucial asset. I am able to represent MTM face-to-face with members, clients, advocacy groups, and within the community.
Debra: The Ombudsman is the face of MTM and our client, and the voice of the member. MTM encourages Ombudsmen to think outside of the box and view every member and situation independently. This is not a cookie-cutter type position. Removing barriers and bettering lives is what the role of MTM Ombudsman is designed to be. Thus helping the individual to maintain independence, age at home, live a healthier and happier life, and be a contributing member of his/her community.
Talia: I have learned the power of listening and empathizing. As the Ombudsman, I get to advocate for members and form close connections with them. They know they can trust me and I offer them a safe space to express what they need when it comes to transportation.
How can you impact change, progress, and forward movement?
Elizabeth: I build relationships with key stakeholders and members. Once pandemic restrictions begin to lift, I look forward to conducting community outreach events where I can engage on a more personal level with stakeholders and members.
Debra: When members contact me, it is not always the typical "I need a ride to my doctor" scenario. In these uncertain times, situations can be more complicated. As an Ombudsman, I have the duty and honor of helping members who have no idea where else to turn. Obstacles are viewed as opportunities to better not only the member's experience, but his/her life as a whole.
Talia: I am the connection between the member and MTM. When there is a disruption, I step in to find a solution and help keep the peace within our communities.