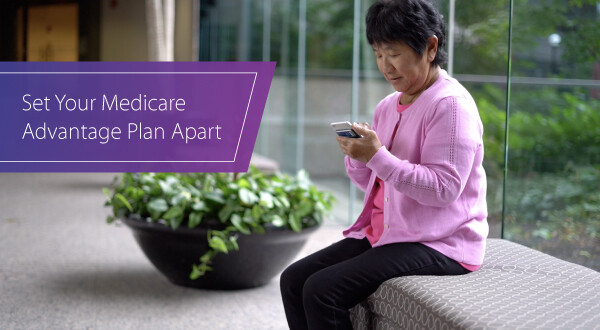 Medicare Advantage Transportation: How Can You Set Your Plan Apart?
In 2020, 24 million people were enrolled in Medicare Advantage plans. The Centers for Medicare & Medicaid Services (CMS) projects that the number of enrollees will increase to more than 26 million this year—a figure that will only continue growing as a large portion of the Baby Boomer population begins to qualify for Medicare and secure supplemental coverage. Now is the time to set your plan apart and accelerate your membership expansion.
As members age, their access to transportation may become more limited—in fact, recent studies show that as many as one third of Medicare members report facing transportation insecurity that affects their ability to access healthcare. That's where MTM comes in. As you look for ways to reduce avoidable ER visits and healthcare utilization while also improving members' quality of life, insurers offering Medicare Advantage plans have a unique opportunity to differentiate themselves in a major way: by offering a non-emergency medical transportation (NEMT) benefit that is leaps and bounds ahead of the rest.
NEMT is an often-overlooked Medicare Advantage benefit that presents an opportunity attract members to your plan, improve health outcomes, and increase your HEDIS scores and STAR ratings. Transportation is an important factor in a modern, well-rounded Medicare program, and MTM is leading the way in helping Medicare Advantage plans tailor their NEMT offerings. With more than 25 years of experience providing high quality transportation to Medicare members nationwide, let us help you create a truly unique and innovative NEMT program.
Here are three simple ways transportation can set your plan apart and drive you ahead of your competition:
Focus on Community Access as a Value-Add Benefit
Social determinants of health play a huge role in your focus on helping members stay happy at home while getting access to the care they need to stay healthy. Consider offering a set number of traditional medical trips while also tacking on additional one-way community trips—rides members can use to get to church, fitness facilities, the hairdresser, shopping, vocational opportunities, and other activities. By offering your members the opportunity to remain active residents in their communities, you're also allowing them to maintain their independence, stay social, and improve their quality of life. This is especially important now as social isolation among older adults has only worsened during the COVID-19 pandemic.
We're also here to help you with more than just transportation to help you focus on social determinants of health. With our 25+ years of experience managing networks of qualified and credentialed transportation providers, we have the expertise you need to manage other network-based supplemental benefits like meal deliveries, home modifications, massage therapy, and more.
Emphasize Self-Service Technology
The Medicare generation is continuing to become more adept with—and even more dependent on—technology. 2020 proved that adeptness more than ever, with an overwhelming number of older adults adopting telehealth practices with ease and comfort. With your members embracing self-service technology and becoming more tech-savvy by the day, a robust, easy-to-use app is something members expect. Through our MTM Link platform, MTM offers functionality that allows members to schedule, modify, cancel, and check the status of their rides through our intuitive web-based portal and accompanying mobile app. However, we realize not every Medicare Advantage member is comfortable with technology, which is where human touch and technology meet at MTM. Our focus on customer service is unwavering—for those members who prefer to speak with a live representative, MTM remains committed to providing one-call resolution through our network of customer care centers throughout the country.
Encompass All Modes of Transportation
An estimated 20% of Medicare members require wheelchair-accessible vehicles. While on-demand transportation providers may seem like a great solution for your Medicare Advantage transportation benefit, they don't always offer all-encompassing transportation modes. Make sure your transportation partner's can build a customized network that expands past just ambulatory sedan transportation to encompass wheelchair vans and stretcher vehicles to meet every members' unique needs. The abilities of the drivers are also an important factor; these members need drivers who can go beyond just getting them where they need to go—they often need assistance getting in and out of the vehicle. MTM's network of transportation providers includes drivers who are highly trained in passenger assistance and encompasses all modes of transportation, including partnerships with on-demand transportation providers to allow us to easily and quickly accommodate short notice trips. We also partner with alternative ridesharing companies like Safr, a ridesharing resource built specifically for vulnerable populations who aren't comfortable riding with traditional ridesharing resources.