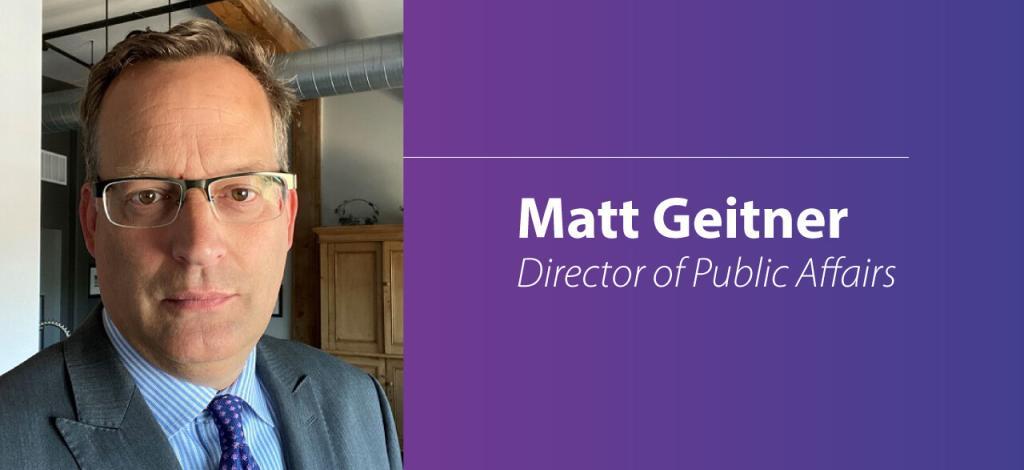 Matt Geitner Joins MTM as Director, Public Affairs
Focused on establishing and maintaining relationships with legislative partners and educating current and prospective clients on the importance of non-emergency medical transportation (NEMT), MTM is pleased to announce the addition of Matt Geitner to our Public Affairs team. Working alongside our Vice President, Public Affairs Phil Stalboerger, Matt serves as our Director, Public Affairs. In this role, he focuses on government relations and ensures lawmakers and clients are well-versed on the value of the NEMT benefit. With Matt's guidance, our Public Affairs team develops key relationships and strategies for new business prospects, advocates for the NEMT benefit, and identifies new solutions for addressing healthcare access.
Matt has more than 25 years of experience leading government and public affairs initiatives across multiple industries in both the private and public sectors. He most recently served as the government relations lead for one of the nation's largest managers of NEMT services in New York. In this capacity, he maintained ongoing relations with state officials, managed care organizations, healthcare provider systems, and transportation providers. Additionally, he facilitated dialogue and developed strategies to ensure regulatory and contract adherence, as well as best practices for providing professional standards of care and service. Previously, Matt also served in similar roles in the healthcare, government, and design sectors. He is a graduate of American University in Washington, DC.
"With Matt's existing relationships and vast experience interacting with managed care leadership, state and federal public officials, and state and national trade associations, he is an exceptional representative for MTM in the legislative community as we continue to advocate for the importance of the NEMT benefit," Phil Stalboerger said. "I look forward to the value he will bring to our legislative advising initiatives as we encourage lawmakers to maintain NEMT offerings for Medicaid members nationwide."
Welcome to MTM, Matt!