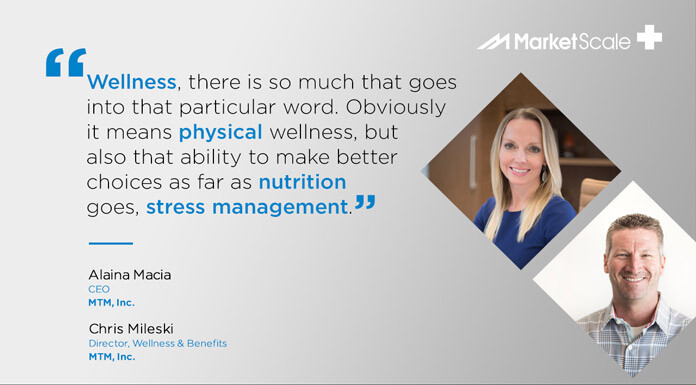 Listen Now: How a Successful Wellness Program Starts at the Top
As MTM's employee base continues to grow nationwide, we strive to be the best employer possible by offering a wide array of benefits to keep staff satisfied, encourage positive interactions in the workplace, and inspire employees to adopt healthier lifestyles and increase control over their personal health. Our focus on employee health and wellness is ever growing. Over the course of the past 10 years, our Wellness Program has evolved into a well-rounded effort that includes initiatives like free annual flu shots, health risk assessments, biometric screenings, weight loss programs, on-site gym facilities, and smoking cessation assistance–all led through our app-based wellness program, IncentFit.
Our President and CEO Alaina Macia and Director of Benefits and Wellness Chris Mileski recently sat down with the host of the Marketscale Healthcare Podcast to discuss our focus on employee health and wellness, and why this focus is so important to our leadership team.
"A lot of people put themselves last when it comes to health and wellness. Someone once told me: 'You have to be in good physical and mental health first in order to be a good parent, good spouse, or good employee.' So, personally, that's been such an important part of my life that I wanted to make sure we were helping our employees do the same thing." – Alaina Macia
Click play below to listen to the podcast!