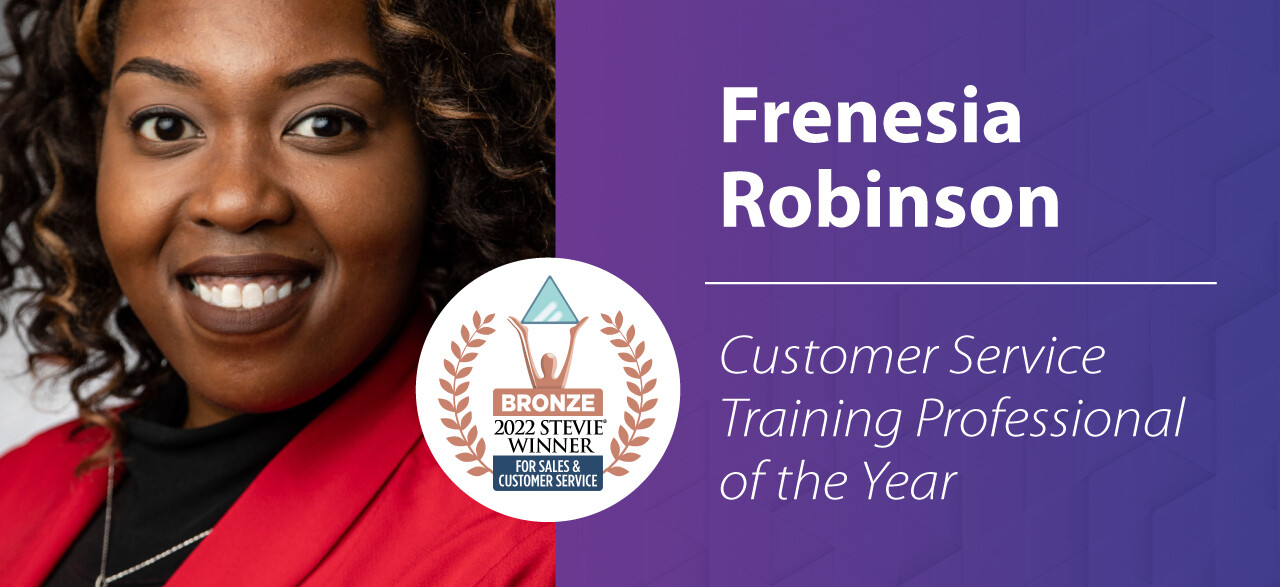 Frenesia Robinson Named a Stevie Award-Winning Customer Service Training Professional of the Year
MTM is excited to announce that our Senior Manager, Employee Experience Frenesia Robinson was recently bestowed an incredible honor: she was named a Bronze level Customer Service Training Professional of the Year! Frenesia took home the honor as part of the 16th annual Stevie Awards for Sales & Customer Service.
The Stevie Awards for Sales & Customer Service are the world's top honors for customer service, contact center, business development, and sales professionals. More than 2,300 nominations from organizations of all sizes and in virtually every industry, in 51 nations, were considered in this year's competition. Winners were determined by the average scores of more than 150 professionals worldwide on eight specialized judging committees. Entries were considered in more than 90 categories for customer service and contact center achievements. Winners will be recognized during a virtual awards ceremony on May 11.
Since joining MTM in 2013, Frenesia has continually earned a spot among MTM's top leaders. Taking on employee engagement from every front, she has helped MTM significantly increase engagement drivers. A few of Frenesia's accomplishments include leading the successful implementation of more than 50 contracts, migrating countless programs and contracts into a new software platform, and consistently maintaining high levels of engagement through the organization.
"Frenesia's employee-centric leadership style allows her to manage our Employee Engagement team, as well as a team of Contact Center Trainers, with ease," said MTM's Chief Human Resources Officer Kerri Mileski. "Exemplifying MTM's core value of Delivering Value, Frenesia was able to smoothly transition all classroom training activities to a virtual platform during the pandemic, while simultaneously keeping her finger on the pulse of employee engagement to ensure everyone felt supported during uncertain times. Frenesia also lead the implementation of company-wide scorecards, which allows each role to have a measurable and accountable understanding of their position within MTM. Her accomplishments and ability to drive results demonstrates the value of training and employee engagement to all employees."
"The nominations we received for the 2022 competition illustrate that business development, customer service, and sales professionals worldwide, in all sorts of organizations, have continued to innovate, thrive, and meet customer expectations during the COVID-19 pandemic," said Stevie Awards president Maggie Gallagher Miller. "The judges have recognized and rewarded their achievements, and we join them in applauding this year's winners for their continued success. We look forward to recognizing them on May 11."
Congratulations on this amazing honor Frenesia–we are so proud to have you on our team!
About The Stevie Awards
Stevie Awards are conferred in eight programs: the Asia-Pacific Stevie Awards, the German Stevie Awards, the Middle East & North Africa Stevie Awards, The American Business Awards®, The International Business Awards®, the Stevie Awards for Great Employers, the Stevie Awards for Women in Business, and the Stevie Awards for Sales & Customer Service. Stevie Awards competitions receive more than 12,000 entries each year from organizations in more than 70 nations. Honoring organizations of all types and sizes and the people behind them, the Stevies recognize outstanding performances in the workplace worldwide. Learn more about the Stevie Awards at http://www.StevieAwards.com. Sponsors of the 16th annual Stevie Awards for Sales & Customer Service include Sales Partnerships, Inc., Thought Leadership Leverage, and ValueSelling Associates, Inc.