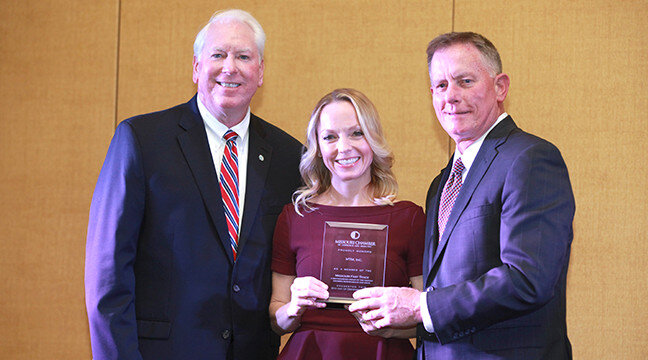 MTM Awarded Missouri Chamber of Commerce and Industry's Fast Track Award
The Missouri Chamber of Commerce and Industry held their 2016 Annual Meeting and Awards Banquet last week, honoring MTM with a "Fast Track Award." Just eight of these awards were given to Missouri's fastest growing businesses according to the organization, to toast companies that are making a difference in improving our workforce. MTM President and CEO Alaina Macia attended the organization's reception, dinner, and awards ceremony held at Big Cedar Lodge in Ridgedale, Mo., on Dec. 8, 2016. She will be featured in an article that will appear in the January edition of Missouri Business Magazine, expressing pride in MTM's core business functions: "A lot of times we're handling the fragile, the elderly and the disabled. We have a real passion for providing access to health care and preventative services so that babies are born healthy, people's diseases are managed and we can have lower health care costs." Read more about our award on the Missouri Chamber of Commerce and Industry's website.
MTM is honored to be esteemed for our rapid expansion and to be recognized among the best in our Missouri business community!