MTM arranges non-emergency transportation within the Washington, DC metropolitan area. This includes:
The city of Washington, DC
The suburbs of Montgomery and Prince Georges County in Maryland
The Northern Virginia counties of Fairfax and Arlington
The City of Alexandria


You must live within the District or reside in a long-term care facility or nursing home. You must receive Medicaid. You must have no other way of going to your medical appointment. Click here for 
Recipient Responsibilities.
You must call MTM three business days before the appointment. Call us at at 1-866-796-0601. Please have the following information ready:
Full name, current address, and telephone number
Medicaid ID number
Doctor name, address, and phone number
Type of appointment (doctor, therapy, etc.)
The Metro is a great resource for our program. It is an excellent way for you to get where you need to go. You can even use the Metro's Online Trip Planner to help you plan your trip. Then use our SmarTrip Log to track your appointments.
Not sure if Metro is right for you? Consider our On the Move Travel Training program. This program teaches you how to use the Metro.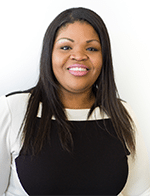 Michelle Moses
Program Manager
To schedule transportation:
Your rides can be booked online through 
MTM Link
. You may also call us at 
1-866-796-0601
. Call to schedule your ride at least three business days in advance. You can call with less notice if your trip is urgent.
To file a complaint, call 1-866-436-0457
Call MTM's WeCare line if you have a complaint about your ride or other service. You can also use our convenient
online form
. You can also or email
QM@mtm-inc.net
.
If your ride is late, call 1-888-293-4687
Call us if you had a pre-scheduled return ride and you have waited for more than 30 minutes. Also call if you called your driver after your appointment and have waited for more than one hour.