Workers' Compensation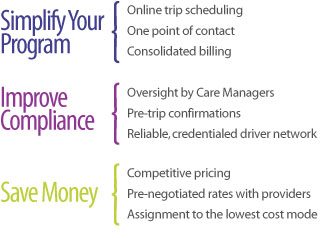 From sedan transport, to wheelchair van service, to air ambulance, MTM delivers efficiency, cost savings, and high quality service to handle your most basic or challenging workers' compensation transportation needs 24 hours a day, 7 days a week, 365 days a year.
Getting injured workers back to work begins by getting them to the medical services they need. MTM has a robust network of regional and national transportation providers that will ensure that each injured worker has timely and quality access to the care that will get them back on their feet.
MTM provides a stable, fully credentialed transportation network to meet the needs of workers' compensation, third-party administrators, managed care organizations, agencies, and self-insured employers.
Nationwide Network

Managing the complex and dynamic needs of a transportation network can be a daunting task. MTM has existing rural and urban networks in more than half of the U.S. and has the experience to quickly and efficiently build new high-quality networks.

We handle it all: recruiting, rate negotiations, contracting, credentialing, claim review, and payment processing. We hold our providers to high standards for customer service and safety through background checks, driver training, and strict monitoring, so you can rest assured that your clients are in good hands.

Care Management Approach

MTM provides a single, dedicated point of contact for all workers' compensation transportation needs. When you partner with MTM, you will communicate directly with our team of Care Managers. This specialized group of transportation professionals will work to help you meet the unique needs of each injured worker.

To improve compliance, the team confirms each trip prior to service and will notify you of any no-shows or other issues. MTM's Care Management approach provides person-centric care, enhanced coordination, and positive outcomes, ensuring your clients are returned to work as soon as possible.

Technology-Driven

MTM offers online trip scheduling, which allows you to create trip requests quickly and efficiently. Your online portal will also provide you with on-demand access to trip information and allow you to create customized reports.

Proprietary, customized software drives MTM, automating virtually every process, ensuring adherence to your specific protocols, and creating efficiencies and cost savings in your programs. When a trip request is made, our system will automatically locate the closest, lowest cost provider for your client.