Scheduling & Dispatching Services
Whether your transit agency seeks to increase or control ridership, MTM can provide the scheduling and dispatching support you need. We provide a multichannel contact center environment with flexible solutions adaptable to your agency's needs. Our highly trained and professional Customer Service Representatives deliver passenger-focused service that provides a friendly voice for your customers and reflects positively on your operations.
Multichannel Interaction
With state-of-the-art customer service systems, MTM transforms passenger interaction into a multichannel experience that can be customized to meet specific needs and criteria. From a proprietary application that allows passengers to request transportation services from their mobile device, to web chat, text, and email functionality, our contact centers go beyond the just a traditional call center operation. However, while many passengers today desire on-demand online functionality, MTM still realizes the importance of traditional voice-to-voice interaction. As a back-up to online services and as an added convenience for passengers who prefer phone contact, our Customer Service Representatives are available on a 24/7 basis to provide personalized communication with riders.
Technology & Efficiency
Across the country, our ten diversely located and fully redundant contact centers are linked by systems that prevent down-time and allow calls to be routed based on capacity and call volume. This redundancy, paired with 24/7/365 operations, ensure your passengers can schedule their transportation services and resolve issues without interruption, no matter the day or time. MTM's cloud-based technology boasts industry-leading capabilities, including:
Unified communications
Interactive voice response (IVR)
Real-time adherence and monitoring
Systematic routing and escalation
Speech recognition and analytics
Screen and voice recording
Workforce management and optimization
Intelligent analytics and reporting
Experience & Reliability
Passenger engagement and quality interactions are MTM's focus. With more than 20 years of experience providing customer service and scheduling more than 14 million trips per year for non-emergency medical transportation (NEMT) programs, our focus on the end user is unmatched in the industry. Annually, our staff handles more than eight million calls while maintaining industry-leading satisfaction rates, exceeding National Committee for Quality Assurance (NCQA) standards, and adhering to all client protocols. 100% of calls are recorded for quality assurance purposes, and Customer Service Representatives in all of our locations undergo intensive training to ensure they provide consistently excellent service, including:
First call resolution
Average speed to answer under 30 seconds
Less than 5% call abandonment
97% customer satisfaction
These results are a direct reflection of not just our technological capabilities—but the friendly, helpful representatives who provide caller-centric engagement for every customer.
Low Employee Turnover
The customer service industry is traditionally a high turnover environment, with contact center attrition hovering around 33%. With a culture that focuses on employee engagement and support, MTM is proud to maintain one of the lowest turnover rates of any transit contact center—including a 90-day attrition rate of under 3%, a timeframe that typically results in extremely high turnover as employees realize they are not the right fit for the job. For our clients, low turnover directly correlates to a better customer experience and decreased overhead costs associated with hiring and training new staff.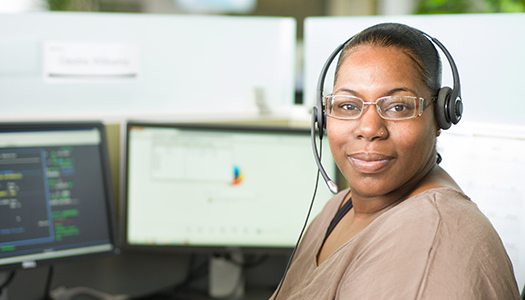 To keep our employees satisfied and under employment long term, MTM:
Ensures Staff are the Right Fit

Not everyone is cut out for the customer service environment—our representatives must be reliable, flexible, driven, and able to cope with stress and difficult callers. Our Talent Acquisition team thoroughly screens all staff over the phone and in person to ensure they align with our core values and are an excellent fit with our culture.

Provides Extensive Training and Development

Our training program consists of two weeks of classroom and side-by-side training, followed by four weeks of close monitoring in the actual contact center environment. 99.33% of our customer service staff report that they feel prepared for their job following training, leading to more knowledgeable employees capable of providing an efficient, friendly customer service experience.

Offers Career Advancement

MTM avoids the glass ceiling associated with contact centers by regularly promoting Customer Service Representatives from within. Our ongoing training and development opportunities ensure staff can move through our tier levels, be promoted to specialized teams, and pursue a future in leadership within our organization.

Delivers Excellent Benefits and Employee Engagement

Our corporate culture is focused on wellness, work-life balance, and making a positive impact on our communities and beyond. We offer generous benefits, including on-site gym facilities, insurance and 401k plans, paid holidays, community service opportunities, and more to keep staff engaged in their career.