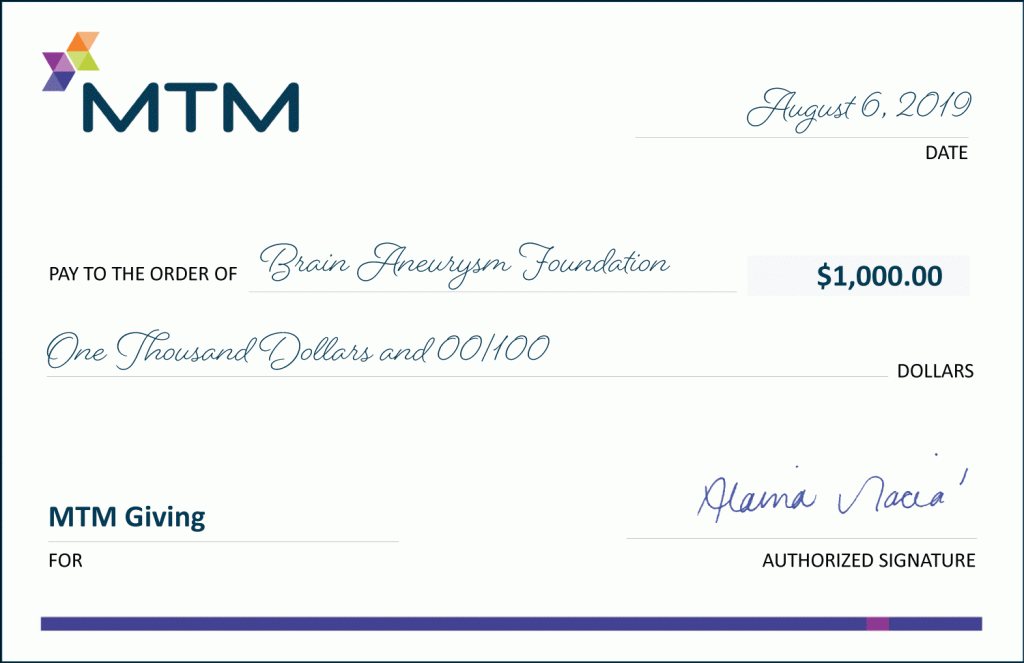 MTM Giving Makes $1,000 Donation to the Brain Aneurysm Foundation
Since launching our formal philanthropic program MTM Giving early in 2019, MTM has supported organizations that tie in with our program's mission: empowering our team members to engage in their community and support philanthropic causes, with a focus on diversity, wellness, and our youth.

In August, we are proud to support the Brain Aneurysm Foundation with a $1,000 donation! The Brain Aneurysm Foundation promotes early detection of brain aneurysms by providing knowledge and raising awareness of the signs, symptoms, and risk factors. The organization is a globally recognized leader in brain aneurysm awareness, education, support, advocacy, and research funding. MTM's donation in particular will enable the Brain Aneurysm Foundation to continue to expand critically important research education, advocacy, and patient services for the thousands of individuals affected by this devastating disease every year.
In selecting the organizations that MTM Giving contributes to, we ask our employees to nominate the organizations they personally support. Using those nominations, the MTM Giving committee picks national and regional charities that align with our mission. This allows us to make a difference with the organizations that matter most to our staff and make impactful efforts within our communities. Thank you to our Senior Manager of Training Josh Kelley for nominating the Brain Aneurysm Foundation!