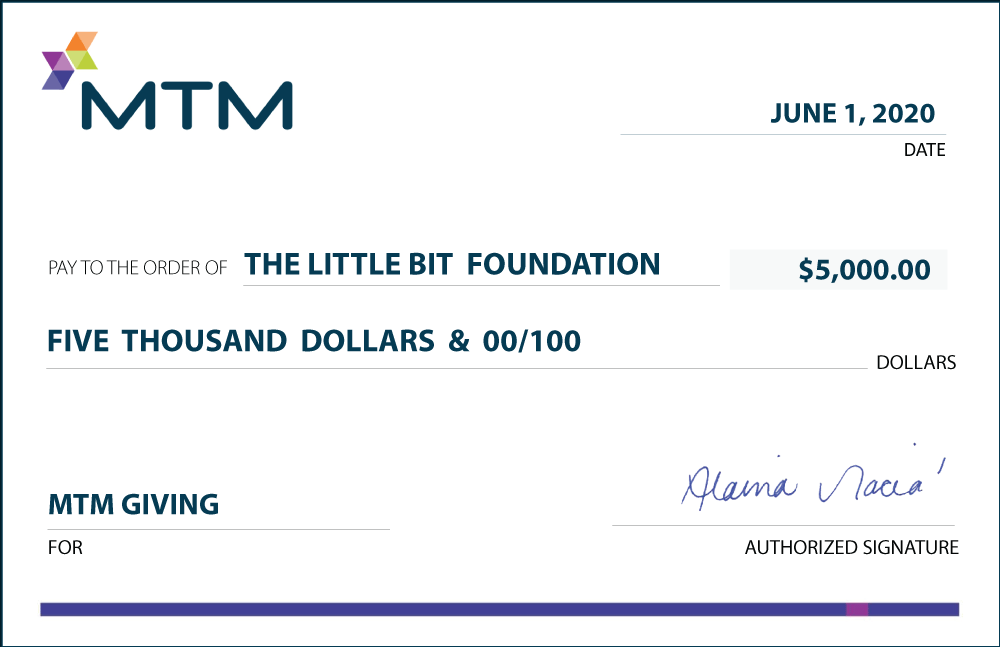 MTM Contributes $5,000 to the Little Bit Foundation's Feeding Hope Program
Through MTM's formal philanthropic program, MTM Giving, we are honored to make charitable contributions to the communities we serve nationwide. In the wake of the COVID-19 pandemic, thousands of residents in the greater St. Louis area–where MTM is headquartered–have been hit with food insecurity. Particularly hard hit are families with young children who typically receive two meals per day at school. The Little Bit Foundation has come to the rescue of those families though their Feeding Hope Program, which brings fresh meat and produce, shelf-stable groceries, and hot meals directly to the doorsteps of students and their families facing food insecurity.
Thanks to the Feeding Hope Program, from mid-April through the end of May the Little Bit Foundation provided more than 600 individuals with an amazing 37,000 meals! MTM is proud to give to the initiative through a $5,000 contribution, which will go directly to purchasing food items for our neighbors in need. The Foundation estimates that our donation will purchase groceries for approximately 20 families of four for up to one month! We are honored to assist the Little Bit Foundation in helping those who can't help themselves during this trying time.
About MTM Giving
MTM Giving supports organizations that tie in with our program's mission: empowering our team members to engage in their community and support philanthropic causes, with a focus on diversity, wellness, and our youth.