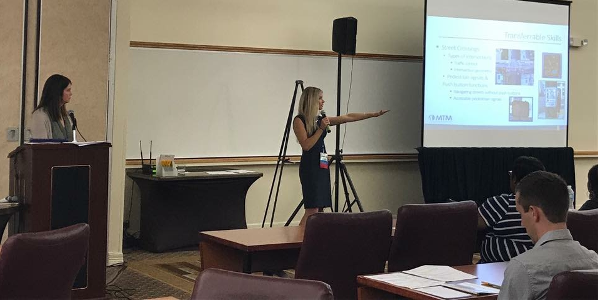 MTM Chairs, Presents at The Association of Travel Instruction (ATI) Annual Conference
The Association of Travel Instruction (ATI) is the leading national organization providing support, information, education, and advocacy for those involved in travel instruction. Each year, it hosts a conference that brings professionals across the country together to share resources and dialogue around industry practices. The event was held August 9th-11th in Austin, Texas at the Hilton Garden Inn Austin Downtown Convention Center.
MTM's Travel Training Project Manager Nathan Graeff served as ATI's Conference Chair, re-elected to the board position after a successful event last year. In this role, Nathan was responsible for all conference logistics including general event operations, and the coordination of presentations, speakers, outside activities, and more. He was able to delegate responsibilities to ATI's Conference Committee serving underneath him. MTM's Director of Travel Training, Robyn Bernardy, also serves ATI as Secretary of the Board and provided support to Nathan in his efforts. Travel Trainers Ashley Hinton and Kelly Krispinsky from MTM's Chicago offices, and Pam Canavan from MTM Florida all presented information to the 60+ travel trainers, travel instructors, transit agencies, nonprofits, school systems, and private companies gathered for the three-day training. Ashley and Kelly presented together on the intersection of Orientation and Mobility and Travel Training, speaking on how travel trainers can use some of the skills that O&Ms traditionally use. Pam led a scavenger hunt ice breaker at the beginning of the conference that prepared attendees to be open to one another in creating dialogue and asking tough questions.
We're pleased to announce that our very own Ashley Hinton was also this year's recipient of ATI's Terry Moakley Memorial Scholarship, established to recognize a new advocate, travel trainer, or travel instructor involved in supporting the inclusions of people with disabilities in the community through the use of transportation, travel training and mobility options. The scholarship exists to further opportunities for new travel trainers, travel instructors, or advocates to enhance their ability to provide the best service possible to people with disabilities, that they might live with greater accessibility to an enriching life.
More information on ATI can be found at www.travelinstruction.org.
"The goal of ATI is to serve the practitioners who teach persons with disabilities and seniors to use public transit safely and independently. Its members include travel training instructors/travel trainers who work for transit properties, school districts, community rehabilitation agencies, independent living centers, and agencies providing adult day services. Members of the association also include parents of children with disabilities, orientation and mobility specialists for persons with blindness, and persons with disabilities who are transportation advocates. Membership in ATI is open to anyone interested in the accessible transportation field."