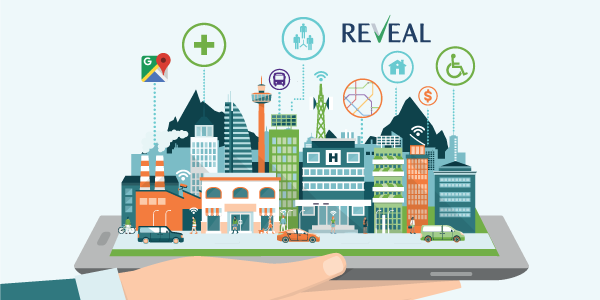 MTM Acquires Reveal, a Leading Routing, Scheduling, and Dispatching Technology Platform
In a move focused on improving the passenger experience and increasing operational efficiencies, MTM is pleased to announce our purchase of Reveal, one of the top routing, scheduling, and dispatching (RSD) technology platforms in the transportation industry. Through the acquisition, which closed on June 30, MTM offers clients an innovative new approach to transportation management that provides operational transparency and the Uber-like features now demanded by the market.
Reveal will be utilized primarily on the healthcare side of MTM's business as our RSD software for non-emergency medical transportation (NEMT). Through Reveal's real-time schedule optimization, mobile app technologies, GPS monitoring, and efficient logistics management, MTM can nimbly meet the changing demands of health plan memberships and offer a precise trip booking and routing solution.
"Reveal is a dynamic RSD solution unlike any technology platform currently deployed in the NEMT industry," said MTM's President and CEO Alaina Maciá. "By streamlining our trip management process, we're able to provide better service than ever to our members and ensure more visibility into our operations for clients."
MTM's acquisition of Reveal is largely focused on supporting our nationwide network of more than 2,400 transportation providers. These providers—which range in size from small fleets of just a few vehicles to vast fleets of hundreds of vehicles—will leverage Reveal to grow and better manage their operations. With Reveal, providers have the ability to optimize their routes and productivity, resulting in improved serviceability.
"Whether the provider is a single driver or a large fleet operation, Reveal is the right solution for each of our network providers," Maciá said. "We're excited to give our provider partners flexibility in their adoption of Reveal through tier-based technology packages, which can be customized to meet their specific needs. Reveal can be utilized on any type of tablet, meaning providers aren't required to purchase a new system to use the platform, and is API-based, which allows versatility in their integration with technology they may already use."
In addition to the benefits reaped by transportation providers, Reveal offers a vast array of benefits to all of MTM's NEMT stakeholders. For members, text/call alerts notify when the vehicle is in route for pick-up, and app-based trip confirmations, cancellations, and vehicle tracking reduces the amount of time the member spends on the phone with MTM. Medical facilities can also take advantage of web-based trip entry and real-time vehicle tracking to ensure their patients are transported in a timely manner. For clients, Reveal offers clear and quick admission for short-notice and urgent trips like hospital discharges and will calls. Additionally, improved data quality and reporting increases client oversight on performance and results.
We can't wait for our stakeholders to take advantage of all the benefits Reveal boasts. Welcome to the MTM family, Reveal!