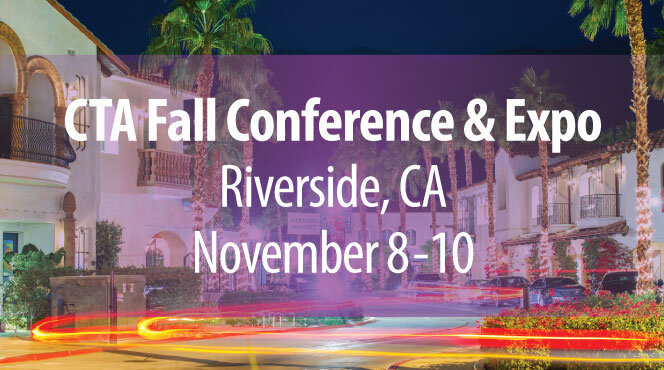 CTA's 52nd Fall Conference and Expo
The California Transit Association (CTA) is embarking on their 52nd year of putting on an outstanding Fall Conference and Expo! We've been a part of this tradition of theirs for a long time and are excited to participate again this year on November 8-10, 2017 at the Riverside Convention Center. "The Annual Fall Conference and Expo is our three-day signature event featuring dynamic presentations from industry experts on today's pressing transit challenges and the novel solutions being implemented by innovative transit leaders. Expect an incredible learning experience." We're proud to be a sponsor and exhibitor of such an event! Catch MTM in a big booth alongside our Ride Right affiliate, demoing the newest RSD technology we've acquired in Reveal. You don't want to miss witnessing its real-time schedule optimization, mobile app technologies, GPS monitoring, and efficient logistics management capabilities! See you there!
The California Transit Association's mission is to support the needs of California's public transit systems through advocacy and education. Their vision is fully funded, efficient and effective public transit systems operating in a balanced transportation network.