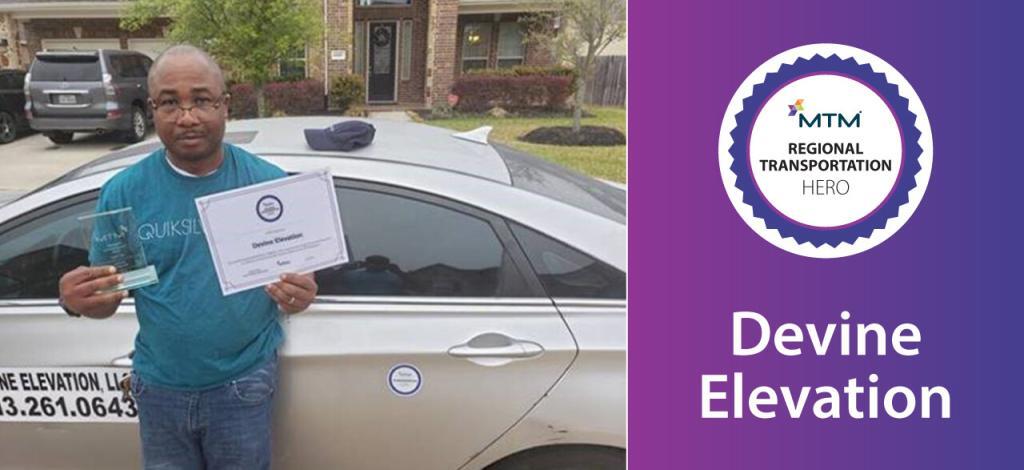 Meet Our Q1 Transportation Heroes
Without excellent service from transportation provider companies within our network, members would be unable to travel to their critical healthcare appointments. Their integrity and commitment is key to helping MTM remove community barriers nationwide. In recognition of their contributions, we've launched a new provider recognition program: the MTM Transportation Hero designation! This exciting program recognizes top performing transportation provider companies for their service and achievements as they work harder than ever to provide a high quality transportation experience.
Every quarter, the program recognizes 10 regional winners, with one winner taking home the status of National Transportation Hero. Winners are selected based on performance data like turnbacks, no shows, and complaint rates.
Meet the first ever honorees of the MTM Transportation Hero award for Q1 2021!
National Winner
Medical Transport Solutions, Inc. (Florida)
Regional Winners
Area Wide Transport (Michigan)
De-Ride (Rhode Island)
Devine Elevation (Texas)
EZ Ride LLC (Missouri)
Great Brook EMS (New Hampshire)
Midway Transit (Wisconsin)
MVP (Illinois)
Southern Cascades (California)
VIP Express (Nevada)
Your Golden Transportation LLC (Mississippi)
"This award has been earned by the efforts of each of our employees. As a small, very rural community service district, it is our privilege to serve a huge geographic area with a very small diverse population. Our employees always consider the member first, and we are proud of that."
-Dan Bouse, Southern Cascades
"Being a partner of your company has been one of the great privileges of my life. We feel deeply honored by this wonderful recognition. MTM has provided us with a rare opportunity to contribute to the welfare of our community while earning a living. Our performance would not have been possible without the help and support of MTM's Logistics team. Our Transportation Manager and VAM are very supportive of our vision and goals towards a fruitful and mutually rewarding partnership with MTM."
-Okey Okafor, Devine Elevation LLC
Please join us in congratulating these Transportation Heroes for their outstanding work and dedication to providing a top-tier transportation experience in the communities they serve! Thank you for going above and beyond in your efforts to help us achieve our vision of communities without barriers.