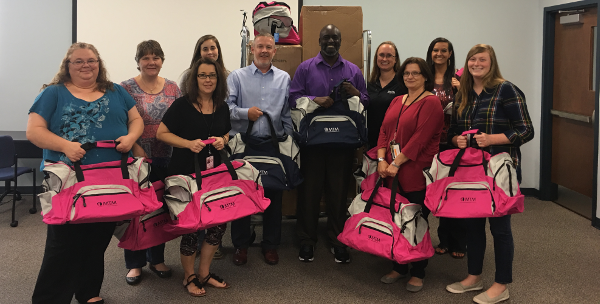 MTM Virginia's Gift to Local Children in Foster Care
Our MTM team in Virginia took our company culture outside of their four walls in a big way last week.
Regional General Manager Brian Arnold always says that the office's greatest ideas come from taking the time to listen diligently to his team members. He recently had a story shared with him by one of their valued members. She expressed a concern regarding foster children,  that she'd heard from a local daughter of foster parents. The girl told her father, "Dad, I don't like the way that the kids come and go from our house." Her father replied back, "Honey, that is what we do. Our calling is to provide a loving home until these children can find a permanent home." She said "No, dad. It's not that they leave but how they leave. When it is time for the children to move to a new home, they take all their worldly possessions and place them… in a trash bag. They should have something better than a trash bag to use."
MTM Virginia started partnering with their local social services office in early 2017. When hearing the story above, that local foster children were having to put their only belongings in a bag that most place garbage in, they called the partner right away. They requested a headcount of current boys and girls in foster care and purchased 100 large canvas bags, both blue and pink, with the MTM logo stitched onto the side.
The canvas bags (pictured above) were presented to the local social services office on Friday, June 23rd by teammates Brian Arnold, Kendall Ramsey and Ashley Pyles. Their staff were overjoyed, and informed the giftees that each child currently in foster care would receive their bag within the next two weeks. The bags offered many compartments that social services intends to place sanitary items in before distributing them. 30 extra bags are being allocated for future foster children to use as they are able to benefit from Pulaski Social Services.
Thank you to our Virginia team AGAIN for continuing to bring our culture outside of our organization. "This suggestion was one of the very best I have had brought to me in my nine+ years at MTM. Let's keep raising the bar!" -Brian Arnold