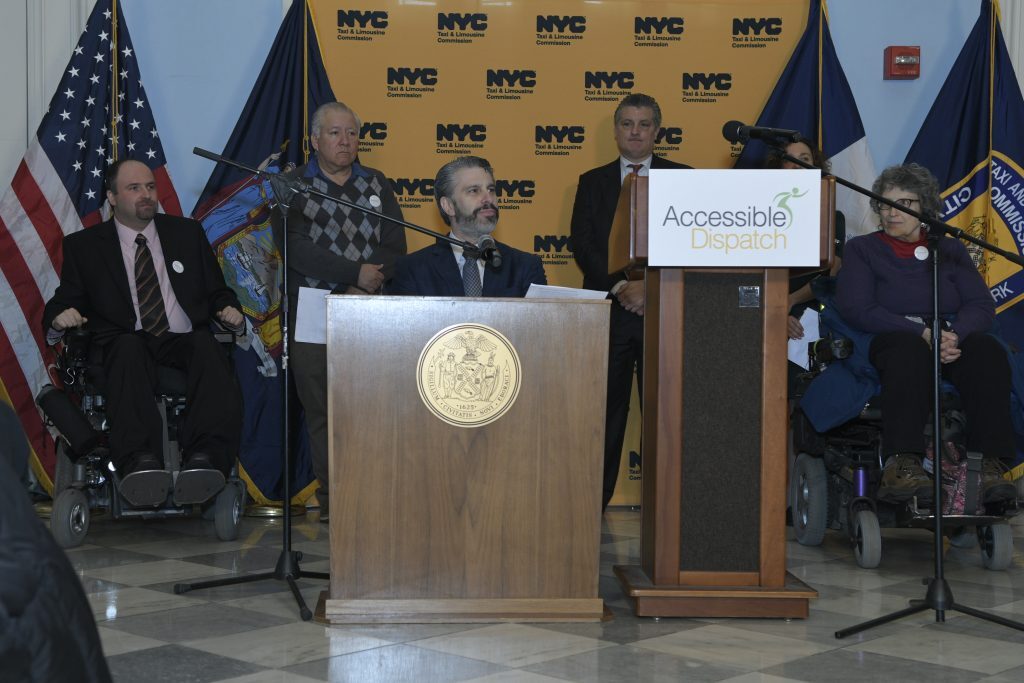 Accessible Dispatch Program Officially Launches in New York City
The New York City Taxi and Limousine Commission (TLC) Accessible Dispatch Program operated by MTM officially launched with a press conference event at Brooklyn Borough Hall in Brooklyn, New York on January 24. The Accessible Dispatch Program is the first operation of its kind, offering citywide wheelchair accessible taxi service—much like an Uber specifically for individuals with disabilities. Passengers can book trips on-demand via mobile app, text, web booking, and traditional call-in requests, and pay for their trips via cash or credit card.
MTM partnered with TLC last year to expand the traditionally Manhattan-based program to all five boroughs. We've been beta-testing the service expansion since September 2017 under TLC's scrutiny. To date, the expanded program has provided more than 1,100 wheelchair accessible rides to passengers from neighborhoods previously under-served by accessible taxis, like Riverdale, Bay Ridge, East New York, and Dongan Hills.
The press conference announcing the launch of the expanded Accessible Dispatch Program was a great success, with more than 100 guests from the press, advocates for individuals with disabilities, local organizations, and city officials. Speakers at the event included MTM's Accessible Dispatch Program Director Crys Cooper; the Commissioner of the Mayor's Office for People with Disabilities Victor Calise; Commissioner Meera Joshi of the TLC; TLC Accessibility Program Manager Alex Elegudin; and a passenger and driver of the program.
Here's what some of the speakers had to say about the program expansion:
"People with disabilities face many daunting transportation obstacles in getting to work, shopping, seeing friends — just everyday living — and our city suffers for it both economically and on an equity basis. This new citywide program is there to remove some of those obstacles and make a real difference in some people's lives."
–Meera Joshi, TLC Commission Chair and CEO
"It's wonderful that citywide Accessible Dispatch is now available so we can get rides in the outer boroughs, too…hopefully in the future, all cabs and for-hire vehicles will be wheelchair accessible to really achieve equal access for all."
–Jean Ryan, Rider; Vice President for Public Affairs of Disabled In Action
Jean, a Brooklyn resident, also told a story about how she was negatively affected by a lack of transportation options in the past. She spoke about an incident when she had a family emergency late at night and needed help getting to an emergency room. However, no accessible transportation services were available to her at the time. Without the help of her friend who happened to have a wheelchair accessible van, she would have been stranded with no assistance or ability to help herself—now, if a similar situation were to occur, she can rely on Accessible Dispatch to meet her transportation needs. Stories like this are the reason why this initiative exists.
The event was covered by major media outlets like the New York Times, AM New York, CBS Radio, CBS New York, Brooklyn News 12, WABC 7, ABC 7, and Telemundo 47. Check out the video below to watch the event!
Read more about the Accessible Dispatch program launch:
>> CBS New York: Wheelchair-Accessible Taxi Dispatch Program Expanding Citywide
>> NY Times: Riders Outside Manhattan Can Now Hail Accessible Taxis, Too
>> AM New York: Accessible Dispatch program expands to the outer boroughs