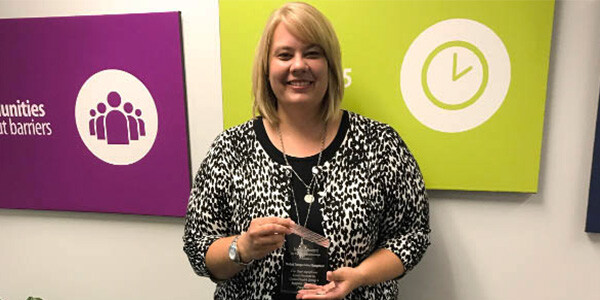 UnitedHealth Group Awards MTM Supplier Diversity IMPACT Award
For the second year in a row, UnitedHealth Group has designated MTM as a recipient of their Supplier Diversity IMPACT Award. As a Certified Women's Business Enterprise (WBE), MTM aligns with UnitedHealth Group's goal to partner with diverse suppliers whose employee bases reflect the multicultural markets they serve.
In 2015, the organization created their Supplier Diversity IMPACT Awards "to recognize suppliers who have provided outstanding contributions in the areas of technological advancement, innovative solutions, cost-effective and responsive solutions and the expansion of relationships." While the organization works with over 600 minority, women and veteran owned suppliers, MTM was one of three companies selected to receive the award. You can read on UnitedHealth Group's website how they identify opportunities for diverse suppliers.
Account Executive Sarah Lafferty received the IMPACT award at a luncheon that was attended by both awardees and UnitedHealth Group executives. MTM's contracting partner Sheri Kalenian presented Sarah with the award and expressed her appreciation of our hands on approach and industry knowledge to those in attendance.
MTM is an equal opportunity employer who welcomes diversity and values the ways in which we are different. Our own diversity allows us to have a greater understanding of the populations we serve—populations that come from backgrounds of varying cultures, ethnicities, religions, ages, genders, and abilities. By ensuring an inclusive employment culture, MTM is able to develop a workforce that is reflective of our customer base while empowering disabled populations in the communities we serve—putting us one step closer to achieving our vision of communities without barriers.