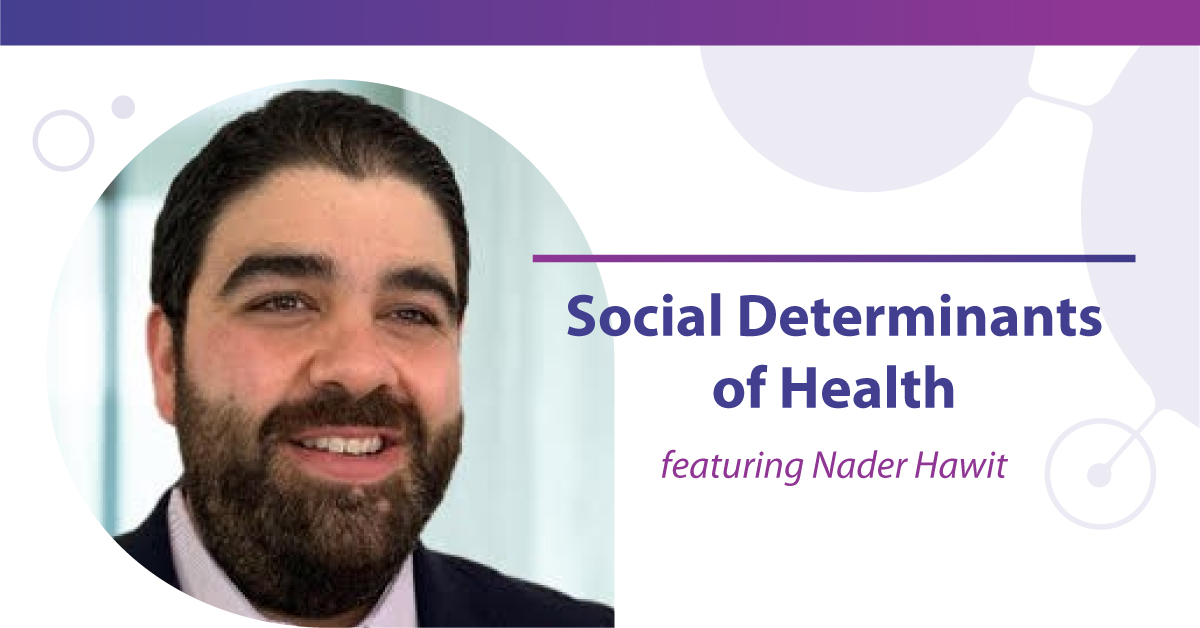 Social Determinants of Health: Addressing Mental Health
September is National Suicide Prevention Month, a time dedicated to bringing attention to the widespread issue of mental illnesses that affect millions of people. MTM recognizes those who suffer from mental illness, and reminds them of the support available. But how can your mental health affect your overall social determinants of health (SDOH)? This month, Senior Director of Digital Products Nader Hawit discusses mental health and how it impacts social determinants of health such as economic stability, social contact, and more.
What is a Mental Health Disorder?
According to the World Health Organization (WHO), "A mental disorder is characterized by a clinically significant disturbance in an individual's cognition, emotional regulation, or behavior. It is usually associated with distress or impairment in important areas of functioning." This can be caused by a number of circumstances, including those who are exposed to poverty, violence, disability, and inequality.
Addressing mental health disorders is crucial for several reasons. Mental health conditions can have a profound impact on various aspects of life, including relationships, career, education, and long-term goals. By addressing mental health challenges as they arise, individuals can potentially change or even save their lives.
Mental health disorders can significantly affect day-to-day life and lead to serious consequences if left untreated. It is important to understand the potential implications of mental health disorders and take proactive steps to educate, screen, and address them. Left untreated, mental illness can hinder daily functioning and affect a person's social determinants.
It is important to not only address mental health disorders, but also to spread awareness so that mental health disparities can be recognized before they lead to negative outcomes. Did you know that only 29% of people diagnosed with a mental health disorder receive formal care? Organizations like the WHO and Mental Health America have educated millions of people on the importance of mental health awareness, but it's still not enough.
The Relationship Between Mental Health and SDOH
There is a specific subcategory to social determinants of health that pertains specifically to mental health, called social determinants of mental health. An article from Psychiatry Online describes it as, "societal problems that disrupt optimal mental health, increase risk for and prevalence of mental illnesses, and worsen outcomes among individuals with mental illnesses."
Psychiatrists and other medical options can be the solution to help address mental health disorders and screen for future prevention. They have an opportunity to screen for, thoroughly assess, and address social risks at the clinical level. By shaping policies and social norms, SDOH such as economic stability and social contact could improve the overall health, both mental and physical, of those individuals dealing with mental health disorders.
Research has shown that social determinants of health have a significant impact on mental health outcomes. For example, poverty can inhibit access to healthy foods and safe neighborhoods, while higher levels of education can influence better health. Social determinants of health can create undesirable circumstances such as disparities and discrimination. Therefore, when looking for the link between SDOH and mental health disorders, it is important to consider how social determinants impact mental health outcomes. By understanding the impact of mental health, we can work towards building a better healthcare system that enables more holistic, comprehensive healthcare for patients and families we serve.
Can Access to Transportation Help?
One of the biggest contributors of access to transportation includes access to events, centers, and more to increase the social aspect of inclusion. The more access to society individuals have, the better their mental health. By working with local healthcare services, there is a greater impact on health and economic vitality.
Our mental health and well-being are products of the healthcare we receive, the choices we make, and the places where we live, learn, work, and play. Processes like Community Health Improvement (CHI) help identify health needs in communities that link to both physical and mental health. CHI brings together health care, public health, and other stakeholders to consider high-priority actions to improve community health, leveraging NEMT services to allow transportation access to resources, community centers, and more.
Suicide Awareness
Suicide rates in the last year alone due to mental health or mental disorders have increased almost 3% and continue to rise. MTM continues to be an advocate of mental health awareness and provides resources to remove community barriers when it comes to social determinants of mental health. Through NEMT services, MTM helps bridge the gap to mental health services, community events, social gatherings, and more to help improve an individual's mental health.
Here are some recent resources where you can learn more about Suicide Awareness and Mental Health Disorders:
Shedding light on the importance behind suicide prevention and mental health awareness is only the first step. MTM continues to support the fight by supplying resources and opportunities to address social determinants of mental health, including utilizing our specialized services. Next month, Nader will continue making his way through the five segments of SDOH, linking their importance to one another.