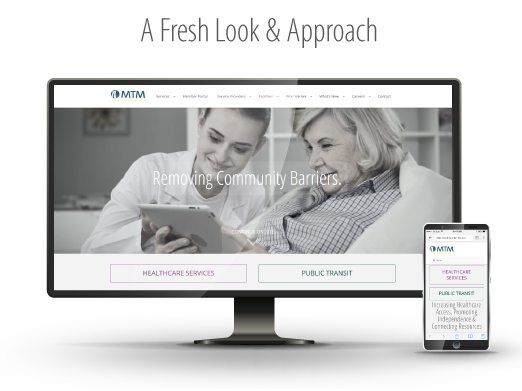 Over the past 20 plus years, MTM has become much more than just a non-emergency medical transportation company—we have evolved into one of the leading providers of healthcare and public transit management services in the industry. As we strive to increase healthcare access, promote independence, and connect community resources, we are proud to offer innovative solutions for taking on your biggest unfulfilled challenges.

Our operating model may be evolving, but our vision remains the same: helping you create communities without barriers.
To reflect our ongoing evolution, we have launched a brand new website that offers a straightforward and transparent approach, ensuring all stakeholders—clients, members, service providers, and medical facilities—can easily access the information you need.
The redesigned website offers accessibility and transparency into our growing services by highlighting two distinct product lines: healthcare and public transit. Each of these service areas are now easy to access right from the home page, allowing you to quickly discover how MTM can help achieve your goals.
While the overall functionality of our website remains largely the same, some exciting new features give you more opportunity to explore and get to know MTM better:
Increased Responsiveness: With our new mobile-friendly design, you can access our site on the go from anywhere!
Expanded Blog: An improved blog area allows you to keep up-to-date with all the news at MTM. Click on the What's New button on our menu to read up on all of the excitement, find out what tradeshows you can catch us at, and register for upcoming webinars.
A New Instagram: We're now more social than ever! Check out our new Instagram account utilizing the username mtm_inc.
MTM is growing, and we are excited to offer our stakeholders the opportunity to expand with us. Take a moment to explore our new website and learn more about our expanded services.