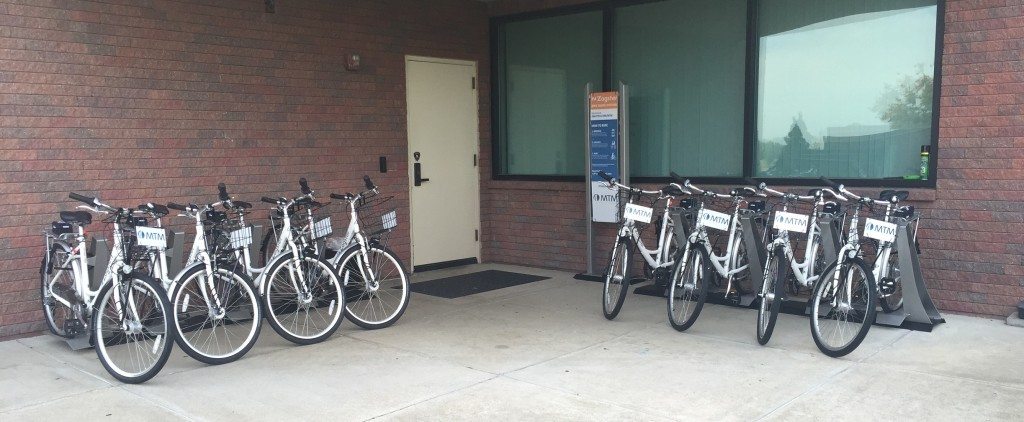 MTM Partners with Zagster to Offer Bike Sharing in Lake St. Louis, MO
MTM, Inc. announced today that it has partnered with Zagster, a leading provider of bike sharing services, to offer bike sharing to MTM employees at its corporate office, as well as members of the Lake St. Louis, Missouri community at large. MTM's Lake St. Louis campus offers convenient access to local restaurants, shopping, and bike paths. The cruiser-style bikes give employees a healthy and fun way to run errands, grab lunch, or exercise.
"Having access to a bike on site is a great way for employees to get some exercise or avoid driving a car for short trips, without having to commute to work on a bike," said Timothy Ericson, co-founder and CEO of Zagster. "Zagster makes it easy for employers like MTM to encourage healthy activity while contributing to a more sustainable community."
At MTM's Lake St. Louis location, Zagster offers eight bikes. Bikes are free for MTM employees to use, and members of the local community can rent a bike for $3 an hour.
To use the Mobile App, riders simply enter the ID number of the bike they want to use. The app then provides an access code for the lock box. Once the bike is returned, the touch of a button ends the rental and releases the bike for the next rider. All bikes come with spacious baskets perfect for groceries, take out, or items from local retailers. With an attached flexible lock, riders can park their bikes wherever they want, allowing the ultimate in convenience.
"MTM is committed to helping our employees become healthier, and Zagster offers us a solution for encouraging physical activity during and after the work day while also promoting a more environmentally friendly mode of transportation," said MTM's Director of Wellness Chris Mileski. "We're excited to offer bike sharing to our employees and community members, allowing more people to get outside and take advantage of everything the Lake St. Louis area has to offer."