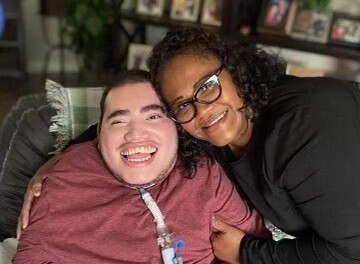 Florida Member Shawn Mertens Brings Smiles to MTM Teammates
At MTM, our dedicated teams never hesitate to go above and beyond to meet the transportation needs of our most vulnerable members. One of those members is Shawn Mertens, who lives in Florida. Until MTM became involved in managing his non-emergency medical transportation (NEMT) rides, he had never had a successful trip. Complications with quality transportation access was always a challenge for Shawn and his family. With his father frequently deployed overseas for the military in a civilian capacity after serving 27 years as a Warrant Officer 4, Shawn's mother needs accessible transportation resources to help Shawn get to his medical appointments–a service that MTM has been happy to arrange for him.
The MTM teammates who help execute his trips have had such a positive impact on Shawn and his family that his mother often sends us videos and photos of Shawn as he celebrates big accomplishments and events, like his birthday! This most recent video of Shawn shows him celebrating his 22nd birthday with family and friends. His warm smile and happiness always remind us of the positive impact MTM has on the members we serve.
This year, MTM wanted to return the favor and put a smile on Shawn's face by sending him happy birthday wishes–check it out by clicking play on the video in the header area of this post!
Thank you to the MTM teammates who continue providing Shawn and other members with the high level of care and support they need. Happy Birthday, Shawn!