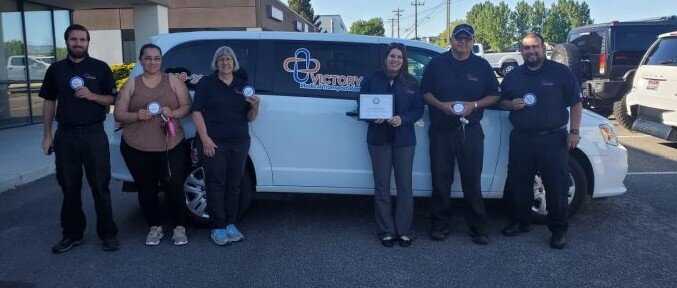 Meet MTM's Community Heroes
In the midst of the COVID-19 pandemic, MTM's network of transportation partners have stepped up to the plate with dedication and unwavering dependability. To show our appreciation for the transportation providers who risk their health to ensure positive and presumed positive COVID-19 passengers can access testing and healthcare, we recently started a program we call Community Heroes. This initiative recognizes the transportation providers whose companies, drivers, and staff have shown exemplary integrity and commitment to providing our members with critical transportation services during this challenging time. They truly are our Community Heroes!
As a token of our appreciation, each one of our Community Heroes recently received a certificate and vehicle magnet that they can proudly display while they are on the road. Thank you to the following companies for being a vital asset to MTM, our clients, and the members we serve. We appreciate you more than you know!
California
Safe Drive Medical Transportation
Florida
All In One
Amanda Vazquez
Amarcus Mcmillian
ARYV
Brianna Belle
Daylight
Divine Transport
Dream Season
Ed Waters
ITL Solutions
Kelly Victor
Kool McCall
Medical Transport Solutions
Nice & Clean Medical Services
Richard Slew
Secured One Transportation
Serrano's Medical
Shanice Shuler
Tina McCarty-Boike
VMD
WHC JAX
Whitley Byrd
Idaho
A to B Services, LLC
Beets Walkin Trans
C T Transportation
Cornerstone Transportation
En Route Transportation
Green Zone Transportation
Idaho County Rideshare
Kool Ridez
L & H Transportation
Lemhi Ride
Rollin Shuttle Services of Idaho
Trinity Transport
Victory Medical Transport
Michigan
Legacy Medical Transportation
Mobility 1 Transport LLC
Regency Transportation
United One Medical Transportation
Minnesota
AllRides LLP
Blue and White Taxi
Helpful Hands Transportation
Missouri
Midwest Transport
Mississippi
Affordable Transportation
C's Violet Love
Nebraska
Beautiful Life Medical Transport
Senior Services, Inc.
Ztrip NE
Nevada
DCMT LLC
LifeTrans
Medical Transport Company
Net Transportation
Richwood Transport
Sheri Worden
New York
Advantage Ambulette Service Inc.
Allstate
Aries Transportation Services
Care and Comfort Assoc. Inc.
ChoiceMedical/Leeway
Diane
Eastern Suffolk Transportation
Fifth Ave Car
Happycare
Murray Express Car Service
Ricar Med Trans Svc., Inc.
Pennsylvania
East Pennsboro Ambulance
Health Ride Plus
Med Transit
PHN Charitable Foundation
Rhythm Ambulance
Three Rivers Trans
Veterans Cab Co Inc.
Rhode Island
Activemed
Baileys Transportation
Care 1st Transportation
Durand Transportation
Jayland Transportation
M&M Transportation
Mobility Transit
PR Transportation
Seidi Transportation
Texas
Emmanuel Okwuenu
Fidelia
Good Hands
Washington, DC
CPR Transportation
DC Healthcare Transport
Wisconsin
Assist to Transport
BL Medical Transport
E & S Tools
In Time Transit
L & M Transport
Midwest Medical Transport
North Central Caravans
Pine Creek Transportation
Richwood Transport, LLC
Van Go
Vee Williams