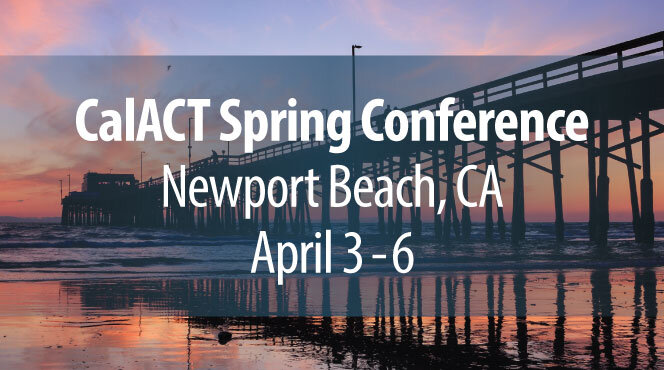 Join Us at the CalACT Spring Conference!
CalACT–one of California's leading organizations for public transit entities–hosts an annual Spring Conference and Expo, and MTM and our affiliate Ride Right can't wait to participate once again in 2018! Join us in Newport Beach, California as we take part in all the excitement:
April 4, 1 p.m.-2:45 p.m.: Creating Successful Internship Programs, a panel presentation featuring MTM/Ride Right's Vice President of People & Culture Kerri Mileski
April 4, 2:45 p.m.-4 p.m.: Creating a Culture of Wellbeing, a panel presentation featuring MTM/Ride Right's Director of Benefits & Wellness Chris Mileski
April 4, 6 p.m. – 7:45 p.m.: Expo Reception
April 5, 2:30 p.m. – 5:30 p.m.: Expo Hours–stop by our booth!
April 5, 6:30 p.m.: Evening event–Cars and Casinos, an Evening at the Marconi Automotive Museum, sponsored by MTM and Ride Right
See you in Newport Beach!
Event Details
When: April 3 – 6
Where: Marriott Hotel & Spa, Newport Beach, California
About: CalACT is a statewide non-profit organization that has represented the interests of small, rural, and specialized transportation providers in California since 1984. Their 2018 Spring Conference and Expo is slated to be one to remember with comprehensive training opportunities in varying areas of hot topics, exciting excursions, and an Expo and Bus Show. It's sure to be a memorable week!