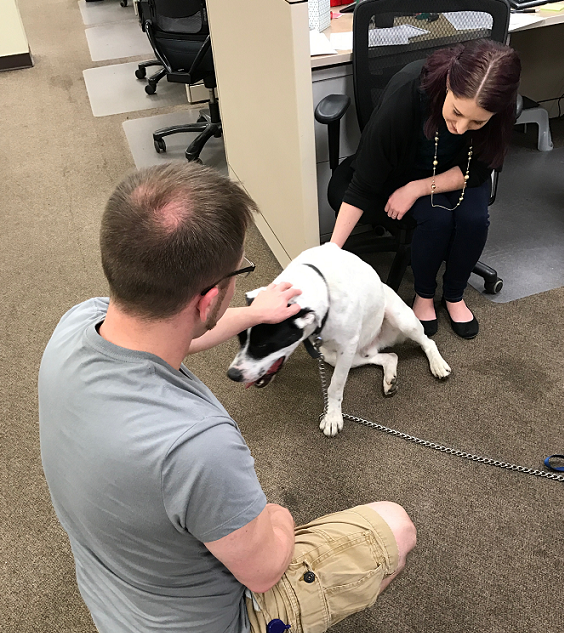 Staff in Minnesota, Virginia Give Time and Resources
Catholic Charities' Dorothy Day Center is in the Saint Paul area of Minnesota, a shelter that offers many services for the homeless. Some of these services include medical healthcare, hot meals, employment counseling, and more. Recently, Dorothy Day has expanded to a new building they call "Higher Ground," where the organization offers social services, temporary overnight shelter, and permanent housing for long-term homeless men and women. This new facility has allowed the Catholic Charities program to expand greatly. There are now two separate sleeping units, one side for women with 60 beds, and one for men with 172 beds. Additional housing offers 193 units to members with disabilities, chemical dependency, mental illness, and/or housing barriers. 12 units are available for women who struggle with late stage chronic alcoholism.
Employees from our Minnesota office are now volunteering at the shelter one Friday a month. They have teamed up with Higher Ground to give their time during two Friday shifts: 5:00pm-7:30pm and 7:30-10pm.
Local administration actually found out about the Dorothy Day Center through local members. A large portion of their callers are those that are homeless. In them, local staff found an opportunity to give back.
They might do a brief check of personal belongings, pass out blankets and pillows, and/or serve dinner during volunteer shifts. They also have an ongoing donation called "Sock It to Me" back at the office, so employees not able to dedicate time to the organization might be able to give financially. Local staff say they're thankful for the services the Dorothy Day Center provides to the community members they also serve. All in Minnesota are looking forward to making a difference!
[x_line]
Further south in Virginia, employees are getting involved with the Pulaski County Humane Society. Over a two week span, from February 19th to March 4th, local CSR Malena Horton teamed up with leadership to start a collection of dog and cat food, cat litter, toys, cleaning supplies, and other essential items new furry friends might need. Employees were challenged by Malena to meet a 1,000 lb, $100 cash donation goal- enough to purchase a one year kennel sponsorship. A cookout fundraiser helped to raise some of the monetary donations, and regular Friday visits from a fur friend of the Humane Society during break time and lunch walks, motivated staff to bring in other supplies. By the end of the second week, final donation counts totaled over 1800lbs of food, litter, toys, cleaning supplies, etc., over $600 in cash, and even 4 pet adoptions by MTM employees (and counting)!
Our Pulaski employees clearly went above and beyond in helping this organization take care of rescue pets. The Humane Society was extremely grateful for the generosity of our employees.