Expanding the New York City Accessible Dispatch Program
Challenge

Expand and operate the Accessible Dispatch program, a program that allows passengers who utilize wheelchairs and other mobility devices to request accessible taxi service

Solution

TLC selected MTM as its new Accessible Dispatch vendor, who worked tirelessly to meet the TLC's goals and expectations and ensure successful service delivery citywide

Results

During the first year of program operation, MTM facilitated more than 97,070 Accessible Dispatch trips, 99.8% of which were complaint-free
Challenge
In 2015, the New York City Taxi and Limousine Commission (TLC) sought a new vendor to expand and operate its Accessible Dispatch program, a first-of-its-kind program that allows passengers who utilize wheelchairs and other mobility devices to request accessible taxi service. Previously operated by another vendor and available only for pick-ups in Manhattan, the TLC wanted to expand the program to serve all five boroughs, connecting passengers with disabilities to accessible transportation anywhere in the city. The TLC needed a vendor who could successfully administer all aspects of the Accessible Dispatch program, including three key components:

Expansion

Expand Accessible Dispatch operations from a fleet of 500 yellow wheelchair accessible vehicles (WAVs) serving only Manhattan to thousands of yellow and green WAVs serving Manhattan and the four outer boroughs: Brooklyn, Queens, the Bronx, and Staten Island


Outreach

Educate and inform individuals with disabilities throughout all five boroughs on availability of the service, as well as train drivers to use dispatch equipment, properly deploy ramps, and safely secure passengers and their mobility devices


Technology

Develop and deploy user-friendly technology, including a mobile app for passengers, a web booking service, and full integration with existing taxi dispatch equipment
Solution
Following a competitive bidding process, the TLC selected MTM as its new Accessible Dispatch vendor. Leading up the soft launch date in September 2017, and then through the official public launch date in January 2018, MTM's Operations and Technology team worked tirelessly to meet the TLC's goals and expectations and ensure successful service delivery citywide.
Expansion
Prior to September 2017, passengers utilizing mobility devices could only request Accessible Dispatch service in Manhattan. Approximately 500 yellow (Manhattan-based) WAVs were available to accommodate these trips. MTM helped the TLC expand the program citywide to ensure passengers could request service from both yellow and green (outer borough-based) taxis serving all five boroughs. Following one year of service, outer borough trips now represent 12% of total trip volume and rising.
Outreach
To support citywide expansion, MTM's Brooklyn-based team focused on performing outreach. Outreach is two-fold: promoting the service to individuals with disabilities, medical facilities, and advocacy groups to continue increasing ridership, and educating drivers to ensure they are aware of the program and how it works. During the first year of operation, our Outreach team hosted more than 50 webinars and attended 2,440 fairs, meetings, expos, fundraisers, and other events throughout the city to reach potential passengers. Through these events, as well as efforts on social media and traditional advertising in disability-focused publications, city newspapers, bus shelters, and more, we have reached more than 200,000 individuals.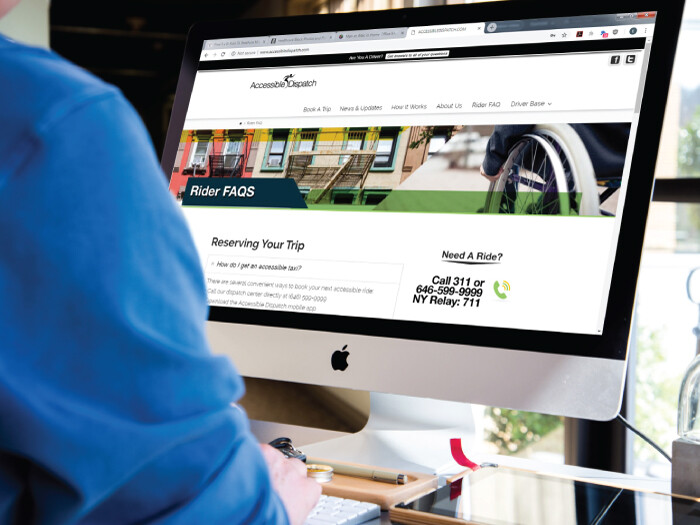 Additionally, our team has focused on driver engagement to ensure drivers are familiar with the dispatch platform and realize they have the opportunity to earn more for taking Accessible Dispatch trips through the dispatch fee. This fee incentivizes driver to take Accessible Dispatch trips, and ranges from $6 to $35 depending on the borough and the distance driven to pick up the passenger. In the first year of service, driver outreach included speaking with more than 1,200 drivers at city airports, hosting weekly securement refresher trainings at our office to ensure drivers are knowledgeable about how to operate their vehicle's securement equipment, visiting taxi fleets and bases to speak with drivers, and partnering with local taxi organizations such as the Committee for Taxi Safety and the Metropolitan Board of Trade (MTBOT) for outreach to its drivers. Through these opportunities, we have directly spoken with and educated approximately 6,000 yellow and green WAV drivers, thereby increasing program awareness and encouraging drivers to participate in the program. We also have a dedicated driver hotline to ensure drivers have a direct point of contact for their Accessible Dispatch questions and concerns
Technology
Perhaps the most challenging aspect of this program was developing and deploying technology that integrates with the TLC's three taxi technology providers: Curb, CMT, and Athena, as well as Cabconnect, the cashiering and payment vendor. MTM partnered with iCabbi to develop a customized Accessible Dispatch platform that allows passengers to request service through a mobile app available on both Android and Apple systems, our web booking service, or over the phone with our dispatch center. Here's how it works:
Scheduling the Trip

Passenger requests trip via phone, mobile app, or web booker
Request details sent to MTM via iCabbi Accessible Dispatch platform

Dispatching the Trip

Platform integrates with taxi technology providers to identify nearby available drivers
MTM uses the platform to dispatch the trip to identified drivers until a driver accepts the trip
Accepting driver receives trip details and proceeds to pick up the passenger

Performing the Trip

Driver performs the trip
Platform collects and records trip information

Driver Trip Incentive Payment

Platform relays trip information to cashiering partner
Cashiering partner releases payment instructions to taxi technology providers
Driver receives payment for performed trip (deadhead fee)
Results
As with any public-facing transportation program, the TLC and MTM are focused on service quality. The TLC relies on MTM to oversee day-to-day operations that ensure high quality service, including friendly dispatch service for passengers requesting trips over the phone, speedy service once a trip is requested, and safe, knowledgeable drivers. MTM established a Brooklyn-based team of 6 Dispatchers who took more than 140,000 calls from passengers during the first year of service, 74% of which were to book new trips. We are continually striving to migrate more trip requests to our web booker and app, which has also trended upward.
During the first year of program operation, MTM facilitated more than 97,070 Accessible Dispatch trips, 99.8% of which were complaint-free. The majority of complaints stem from dispatched vehicles being unable to accommodate the number of additional passengers requested; we have since made improvements around this process by educating passengers on vehicle type capacity and adding a vehicle selector to our self-service booking options. We have also been working to improve and better manage vehicle wait times, specifically in the out boroughs. Overall, to the satisfaction of passengers, we have been able to decrease overall wait time to under 15 minutes.
Over the course of the contract, MTM expects trip volume to continue increasing as we partner with the TLC to achieve its goal of having a 50% wheelchair accessible taxi fleet by 2020. We look forward to continuing to help the TLC meet our ultimate vision for New Yorkers and visitors with disabilities: Access the City Like Never Before.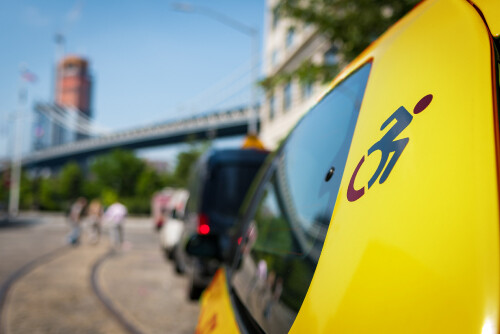 I couldn't have picked a better service than Accessible Dispatch for my patient. 
Babiker O., NYC Caregiver