Paratransit, Fixed Route & Shuttle Services
With customized solutions that balance innovation, best practices, and quality, MTM is one of the most trusted partners in the transit industry.
From paratransit, fixed route, and shuttle services to micro transit, we offer individualized programs to meet unique challenges. Our client- and passenger-tailored approach continually results in higher levels of productivity, lower complaint rates, smooth start-ups, and an exceptional transportation experience.
Paratransit
As the demand for reliable paratransit service continues to grow by as much as 10% per year in some communities, the need for innovative approaches and a commitment to quality increases as well. A vital community resource for the elderly and individuals with disabilities who are unable to navigate traditional fixed route transportation, complementary Americans with Disabilities Act (ADA) paratransit services provide transportation flexibility, convenience, and dependability, as well as assurance that passengers can get safely from point A to point B.
MTM's sophisticated paratransit programs are diverse, and can accommodate your agency's every need. Supported by our experienced call center operations and dispatching team, as well as industry-leading scheduling platforms, MTM assures our clients and their passengers timely, quality service that is sensitive to each passenger's needs. Our drivers receive extensive training on customer service and passenger sensitivity, preparing them to treat every passenger with dignity and respect.
The Paratransit Brokerage Model
For transit agencies seeking alternative methods for paratransit delivery, MTM's paratransit brokerage model meets Federal Transit Administration (FTA) requirements, and focuses on safety and the passenger experience. As one of the largest non-emergency medical transportation (NEMT) brokerage operators in the country, MTM is the ideal partner for this model. Our flexible and efficient approach leverages our more than 20 years of brokerage experience and deploys existing networks of transportation providers to deliver ADA-compliant paratransit services. By establishing a brokered service delivery model, transit agencies increase cost effectiveness, establish overall service efficiency and quality, and provide a flexible approach for meeting each passenger's individual needs.
Why Broker with MTM?
Diverse provider networks
Partnerships with transportation network companies/on-demand providers
Thorough driver and vehicle credentialing
Innovative technology
Improved safety
Opportunities for maximizing ridership
In-depth NTD-compliant reporting
Fixed Route & Shuttle Services
Citizens of communities across the country rely on public transportation and shuttle services to get to work, shopping, medical appointments, and other daily activities. From extensive fixed route systems in urban counties to simple routes with flexible options in smaller communities, MTM offers our clients turnkey operations for any public transit structure. Additionally, our shuttle services for both private and public agencies offer airports, university campuses, hospitals, hotels, and large corporations reliable solutions that reflect positively on your organization.
MTM does more than just operate public transit and shuttle systems; we take it upon ourselves to continually evolve the programs we serve with innovative service enhancements. For example, our methods for optimization evaluate your current fixed routes to help identify opportunities for expanding routes, decreasing the amount of time passengers spend in transit, improving overall efficiencies, and reducing costs as a whole.
At all times when operating our clients' routes and vehicles, we are firmly committed to one key principle: every trip is important. Safety comes first for our passengers, employees, and transportation partners. We continually create a safety-conscious culture by proactively identifying and controlling hazards as a means of preventing injury, accident, and other losses, all while ensuring each passenger is delivered on time in a clean, comfortable vehicle by a friendly, helpful driver.
Our commitment to quality is service is backed by intelligent transportation systems that leverage state-of-the-art technology aimed at enhancing efficiency, improving on-time performance, and ensuring safety, including: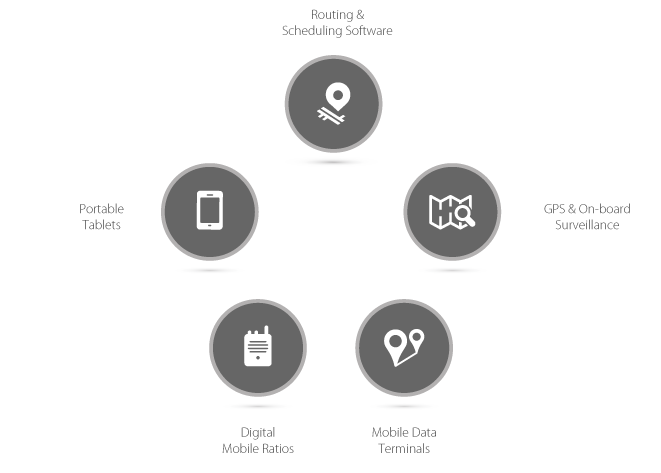 Micro Transit
The future of transit is micro transit. MTM has the tools and expertise to help with your niche demand response projects. In areas with sporadic ridership and low demand, micro transit can serve your ridership more efficiently by transporting them exactly where they want to go. If an area of your community has underutilized fixed route service or is underserved by traditional transportation resources, we can help you build a micro transit system comprised of high quality demand response or deviated fixed route options. Put your grants to good use and bring more relevance to your public transit system with micro transit.