Marketplace:


Control Your Schedule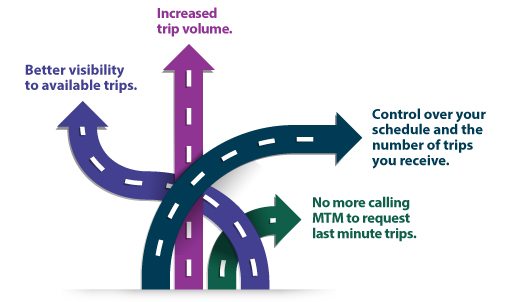 If you want to increase your trip volume, here's your chance: join the pilot program for MTM's new Marketplace application
With access to Marketplace, you can now add trips to your schedule through MTM Link. Filter trips by service area, date, time, and mode to select the options that work best for your schedule.
Here's how it works:
When you log in to Marketplace, you'll see a listing of available trips within your service area.
Before you choose a trip, you can review all service details: trip length, mode of transportation, special needs accommodations, and pick-up and drop-off dates, times, and addresses.
If a trip fits into your schedule, select the link next to the trip.
A dialog box will prompt you to accept the trip assignment. If you choose to continue, the trip will be assigned to you.
A message stating that the trip has been assigned to you will display at the top of the page and the trip will appear in your Electronic Trip Download. Trips accepted by your company through Marketplace may not be turned back to MTM.
Hit the road!
Contact Us
If you are not currently contracted with MTM visit www.mtmdrivers.com
If you are currently contracted with MTM, contact your Vendor Account Manager for more information.